Image Fitness Training - Fitness and Health courses
No courses presently listed for this provider.
Other Courses in Fitness and Health Category
Invigorates the mind, develops core muscle strength, relieves stress and back pain, improves balance and co-ordination. Will leave you looking toned and revitalised. Beginners: Move on to next level (FOLLOW-ON): Then to Improvers. (Limited number in class).
Other colleges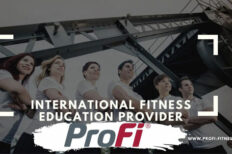 Profi Fitness School was opened in 2003. The Irish branch was opened in 2009. Since […]
Cork, Dublin, Galway, [...]
Adult Education, Fitness Training, Further Education, [...]
Diet and Nutrition, Fitness and Health, Fitness instruction, [...]