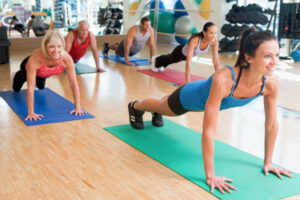 With bountiful opportunities for professionals in the many health and fitness fields, the range and availability of courses in this area have also grown. Together with the increase in legislation that governs the industry, it has become necessary to be well educated & certified if working in the fitness industry. This coupled with the varied health & fitness requirements of fitness seekers are the reasons why courses in this area have become much more popular in recent times.
Health and fitness courses generally have an introduction to exercise, the influence it has on the body, modern health problems and solutions, health promotion and the practice of behaviour change. Some focus on physiology, whilst others focus on the running and management of a health facility or coming up with lifestyle plans for individuals who need a health overhaul. Therefore, the course you choose largely depends on the career you envisage for yourself at the end of your studies.
In terms of career development, health and fitness courses can open up a range of opportunities for you. You could work in a health centre, go on to qualify as a fitness instructor, enter management of a health and fitness centre, become a physiotherapist or massage therapist, become a health consultant… the list goes on.
In terms of course types, there are lots of full time and part time options. For those interested in third level courses, there are several bachelor degrees and also higher certificates and diplomas. The majority of degree courses last four years, with certificate or diploma courses lasting one or two years. They will all end with a final examination, as well as several practical case studies designed to assess your ability to apply the skills that you have been taught.
For those looking for part time fitness courses or professional development, there is no shortage of choice with many providers offering flexible training options in a range of locations around the country. These courses are available to those just starting out in the industry & wishing to become fitness instructors or personal trainers. Courses for fitness professionals are also plentiful with opportunities for up-skilling in the areas of Kettlebells, Nutrition, Spinning, Sports Therapy and others. For more information on these providers, see the links below..
1. Motions Fitness was established in 1984 and today it runs the highly regarded Certificate in Exercise & Health Fitness & Higher Certificate in Exercise & Health Fitness. These are university accredited (by UL) personal trainer courses at QQI Level 6 – Internationally recognised – EQF Level 5.
2. Institute of Massage and Sports Therapy (IMST) was established in 1998 to provide a professional centre of training for complementary and sports therapists. Courses are run in Limerick and Galway.
3. The National Training Centre offer a wide range of fitness training courses in Physical Therapy, Personal Training, Holistic Massage, Strength and Conditioning and Nutrition.
4. Portobello Institute run a range of Health and Fitness courses in both Further Education and Part Time Learning sectors. Courses range from Sports Science and Sports Psychology to Sports Therapy, Sports Coaching & Sport First Aid.
5. Fitcert provides highly practical Fitness Instructor and Personal Training Qualifications at locations in Dublin, Louth and Offaly.
6. The Sports Fitness Academy in Donegal provides a wide range of sport and fitness related accredited course, including sports massage, fitness instruction and personal training.

View Findacourse Fitness Instruction courses and Health and Fitness course listings