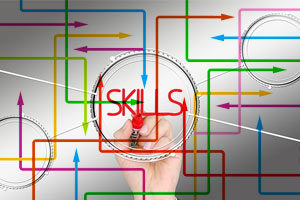 Traineeships are programmes of structured training which combines learning in an education and training setting and in the workplace aiming to improve recruitment and employment outcomes for participants and increase retention and productivity within industry. Previously aimed at unemployed people, traineeships are now open to a wider range of participants, of all ages and background.
Key features of Traineeships in Ireland
They respond to an identified industry skills need
Lead to an award at NFQ Levels 4-6, or equivalent
Are between 6-20 months in duration
Have at least 30% of learning on-the-job
Combine transversal and technical skills development
Are designed for flexible delivery – online, blended learning
Provide open access to prospective trainees, unemployed people may be eligible for income support
Currently, there are over 30 traineeship programmes available around the country. This number will increase with the development of more traineeships across a range of industries and sectors.
The below list sets out the suite of current traineeship programmes.
Aircraft Maintenance Technician
Aircraft Structures Technician
Engineering
Laboratory Assistant
IT Support Specialist
Software Developer
Digital Sales and Marketing
IT Network Security
Animation Studio Assistant
CARE & HOSPITALITY
Early Childhood Care and Education
Health Care Assistant
Hospitality NFQ Level 4
Hospitality NFQ Level 5
Food and Beverage Service
CONSTRUCTION LOGISTICS
Overhead Lines Operator
Interior Systems
Supply Chain Logistics
Logistics and Distribution
BUSINESS RETAIL
Office Administration
Business Systems Service Technician
Business Administration
Medical Administration
Legal Administration
Retail Associate
Pharmacy Sales Assistant
Retail Skills Health and Beauty
SPORTS AND LEISURE FASHION AND BEAUTY
Outdoor Activity Instructor
Equestrian International Instructor (BHSAI)
Sports, Recreation and Exercise
Beauty Therapist
FINANCE
Accounts Executive
Financial Administration
Eligibility
Traineeships are free of charge to participants. Trainees may include school leavers, older learners, those in employment and those who are unemployed. The minimum age for participation on a Traineeship programme is the statutory school leaving age of 16 years.
People who are unemployed and wish, following engagement with their Intreo Case Officer, to access traineeship to up-skill for employment, may be eligible for a training allowance or income support.
Eligibility to participate in a traineeship includes unemployed people who are in receipt of the following payments:
Jobseekers Benefit
Jobseekers Payment
One Parent Family payment
Jobseeker's Transitional Payment (JST)
Disability Allowance
Eligible persons must also be resident in the state and hold a valid PPSN.
Those in receipt of one of the payments above are eligible to retain their payment while participating in a traineeship. Prospective participants who fulfil these criteria are referred by Department of Education and Social Protection (D/EASP) to an Education Training Board (ETB) and receive a training allowance for the duration of their training.
More Information
Intreo offices (www.welfare.ie), Local Employment Services (www.localemploymentservices.ie) and Education and Training Boards (www.etbi.ie) provide a guidance service locally and regionally to jobseekers and adult learners.