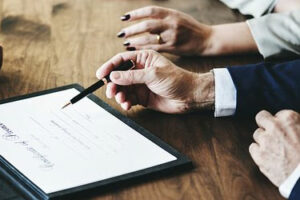 Demand for legal administrative roles, particularly legal secretaries in Co. Dublin is very high, and with this demand comes competitive salaries and packages. The role of a  legal secretary has undergone a major transformation in recent years with new requirements involving more of a technology-based skill set and a fresh understanding of admin in the digital age.
Technology has revolutionised many modern careers and this includes the legal sector, with administrative workers waving goodbye to archaic typewriters and saying hello to shiny new tablets, smartphones and laptops.
Whereas the role was once heavily paperwork based and manual tasks such as filing and transcribing took up a large chunk of the job, sophisticated technology has now completely altered the way these tasks are done. The majority of law firms in Co. Dublin have now gone fully digital, with the remainder fast making the transition to electronic filing systems.
With a decline in the traditional clerical duties thanks to technology, it has allowed legal administrative roles to evolve and changed the way we think of 'admin' roles forever.
The new, improved legal secretary
The legal secretary role of old is gone and in its place is the new, much more flexible and tech-savvy role. And therefore, it requires a new generation of legal secretaries that are receptive to the changing environment and have the skill and knowledge to adapt to changing technologies.
And with this new, improved role comes an increased salary to match. A tech-savvy and skilled legal secretary can enjoy a starting salary of around €30k per annum and with experience can earn up to €50k.
If you're interested in finding out more about pursuing a career in legal administration, you can contact Maria Lawlor at Pitman Training Swords or view the courses they offer at https://www.findacourse.ie/colleges/pitman-training-swords/
There are also many other Pitman Training centres around the country. You can find one at a location near you using the following link.. https://www.findacourse.ie/pitman-training-ireland/