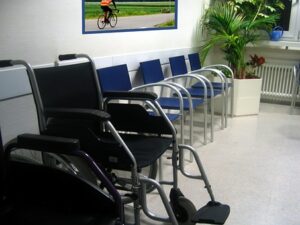 Medical administrators and secretaries play an important role in the successful operation of medical or healthcare facilities. They work in a wide range of environments, including hospitals, research establishments, GP practices, and community healthcare services. They keep the working environment running smoothly at all times and help medical professionals focus on their busy roles. This is an extremely important position as the secretary/administrator often becomes the face of the clinic or medical centre they work for, not to mention 'the right arm' of a doctor, dentist or researcher.
Patients can be apprehensive, even fearful about a visit to their doctor, so they need that reassuring welcome on arrival. They also want to visit a well-organised, clean, and efficient environment. This is where a medical secretary demonstrates their interpersonal and organisational skills. Their responsibilities include ensuring that patients have a good experience from the moment they enter the office doors.
Medical secretaries on any given day could be transcribing dictation, preparing correspondence, or assisting physicians or medical scientists with their daily responsibilities. They also record simple medical histories, arrange for patients to be hospitalised, order supplies, and liaise with laboratories. In some cases they will prepare reports, speeches, articles, and organise conferences. In addition, medical administrators use computers to create spreadsheets, compose correspondence, manage databases, create presentations, reports, and documents. Dependent on the employer; they work with vendors, track leased equipment, manage stockrooms or libraries, and retrieve data from various sources.
On progression in this role: a medical administrator could end up supervising other staff and performing less clerical tasks, if working in a larger medical environment. They are often tasked with conducting research for their doctor/superior and preparing statistical reports. In a number of situations, they work with secretarial teams in hospitals and with medical scientists to share their expertise.
The general duties and responsibilities for both medical secretaries and medical administrators include:
Updating patient records
Making appointments for patients and arranging the general schedule of the employer
Dealing with correspondence and general queries from patients
Dealing with enquiries from members of the press. This is particularly applicable to those working for a research establishment
Writing letters and sending them to the appropriate recipients
Setting up a filing system and updating it regularly
Filling in complex forms
Sending away samples for medical testing and, if appropriate and accepting samples for medical testing
Sending the samples to the appropriate internal hospital department
Updating patient notes with accurate test results
Phoning patients to inform them of the results of medical tests
Making appointments with hospitals on the behalf of patients who require minor medical procedures
Performing numerous general and personal tasks for the employer throughout the working day
Undertaking medical research on a particular subject
Writing reports on this research
Presenting the results of the research to the employer and explaining its wider significance
In order to become qualified there are a number of different options for those interested. A popular choice is to get an actual qualification related to medical administration or medical secretarial  studies rather than getting a general secretarial qualification and then trying to gain work experience in a medical setting. These type of courses will teach both basic and more complex skills relevant to this medical role. Of course, training continues once you obtain a position in a medical environment.
Recommended Courses:
Pitman Training run a part time/evening Medical Secretarial Diploma. This Pitman Training Diploma will give you the necessary skills you need for this career; from keyboard skills to typing speed and audio; to total mastery of the most commonly used Microsoft software; to knowledge of the necessary medical terminology. Shorthand is an additional option, if you wish. They have nationwide locations. – Click for more details about Pitman Training
College of Management and IT (CMIT) run a Medical and Clinical Administrative Distance learning Course. This programme is designed for people who wish to gain a recognised qualification to enable them to begin work or improve their career in Medical Reception and Medical Administration roles. Students will learn how to: manage front office services, manage clinical administration, use technology within clinical practices, use and understand medical terminology, work with medicine and hygiene, and understand confidentiality practices. The course is ideal for all those working in administration or customer service roles within Private Consultant clinics, Hospitals, Doctor or Dentist surgeries, and private Health Clinics. – Click for more details about CMIT
There are also various Medical Secretary PLC courses that also qualify you for this area of employment. The aim of these PLC courses are to prepare students for employment opportunities in a medical setting using the latest software. Emphasis is also placed on developing good communication and interpersonal skills. These courses are FETAC Level 5 accredited. – Click to view PLC Medical Secretary Courses
Yes, medical secretaries/administrators will usually work in a comfortable office, but it is often the case that the comfortable office is situated in a reception area. That entails working in the eye of the public and often with many disruptions to the work you are doing. However, this is a highly thought of position as it is a secretarial role in a medical setting with a lot of responsibility.
What makes an excellent medical administrator/secretary? You must be highly organised to start. Secondly, you have to be a 'peoples person', especially if you are working in a GP/Dentist/Clinic setting. You have to have the ability to deal with pressure whilst being calm and polite to the public you will be dealing with. Attention to detail is a necessary requirement along with excellent computer skills. The ability to adhere to ethics and rules of confidentiality is essential. If you do move onto to working for a pharmaceutical company, a research institute or perhaps into a community health care; as a medical secretary/administrator, you would often have the additional responsibility to provide support for a team of employees and sometimes work to deadlines.
If you are interested in such a position – perhaps contact your local GP/Dentist to see can you avail of some work experience or work shadowing in order to get some first-hand experience of this important role or discuss your interest with any one of the course providers mentioned.
A medical secretary/administrator is a specialised role but it is a role with many progression routes in the medical world, available to those with relevant qualifications and experience.
View Medical Administration and Secretarial Courses on Findacourse.ie