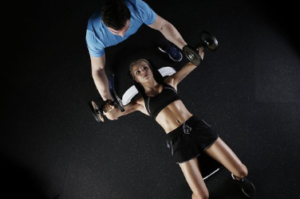 It has been said that if you can turn a hobby or passion into a career – you will never work a day in your life. With an increasing amount of Irish people becoming health conscious and more fitness focused, there is also a growing percentage of sports enthusiasts looking to leisure, sports and fitness as a potential career path.
This sector of our economy offers a very wide range of career opportunities. Employers include leisure companies, tour operators, local authorities, gyms and leisure centres, health and fitness clubs, hotels and sports clubs among others.
Apart from the level of fitness and qualification required; you also have to have an ability to communicate well with people along with a helpful attitude. Organisational and teamwork skills are often required and sometimes good business skills. One thing is certain – despite the growing number of fitness instructors in Ireland, those who are successful, are those who have established a credible name for themselves through determination and hard work.
Generally, there is a wide variety of courses that can help prepare for entry to this career area on a number of different levels: from Post Leaving Cert (PLC) courses in Health and Fitness to Industry certified courses/qualifications. Students can also progress to Level 8 Honours Degree programmes in areas such as Sports Science.
Many jobs in this sector offer the opportunity for promotion to supervisory or managerial levels. There are plenty of opportunities to work abroad and in many cases it is possible to become self-employed as a Fitness Instructor or a Personal Trainer.
Course Providers
Image Fitness Training runs courses that qualify participants as a NEFPC (National Elite Fitness Professional Certificate) Fitness Instructor, Personal Trainer & Group Instructor. This qualification will help you build a career, not just a certification. Throughout this course, you will learn to conduct screenings of new members/clients and assess their fitness via a variety of methods. You will learn how to teach correct techniques in all aspects of fitness and utilise an array of exercise equipment to achieve results.
The National Training Centre offers an interesting course on Neuromuscular Physical Therapy which qualifies participants in treatment of soft tissue trauma and sports therapy. They also run a range of other courses on exercise and health studies, suspension training, pilates, pre and post natal exercise, kettlebells and more!
FitCert provides highly practical Fitness Instructor and Personal Training Qualifications at locations in Dublin, Louth and Offaly. Keith Martin is the founder of FitCert and has been in the fitness industry for well over 10 years, as well as providing top class fitness qualifications he runs a successful gym and martial arts business.
The Sports Fitness Academy in Donegal delivers high quality teaching and learning with recognised qualification within the sport and fitness industry. Courses include fitness instruction, personal training and sports massage therapy. All the courses delivered are accredited and mapped to both the English Qualification and Credit Framework (QCF) and the European Quality Framework (EQF). These qualifications will provide students with access onto the Register of Exercise Professionals Ireland (REPs Ireland) and the Sports Massage Association (SMA).
Profi Fitness – Over the years, ProFi Fitness School has become a market leader in sports education offering a wide variety of training courses: basic, advanced, specialised workshops and seminars.
Holistic College Dublin provides comprehensive, professional training in a wide range of therapies from foundation courses to the most advanced therapeutic training in Ireland. All of our training programmes are recognised for excellence in training standards and superb exam results! Holistic College Dublin is a registered provider for I.T.E.C. awards.
If you wish to gain a Higher Education award in the Health & Leisure business; there are many on offer via the CAO system. The Bachelor of Science in Health and Leisure in Tralee IT, is both well established and extremely credible amongst relevant professionals and professional bodies. The programme consists of an equal mixture of applied, active, often externally-certified leadership training programmes, and the theoretical foundations underpinning each subject area. Specialist streams are each supplemented with a one-year add-on Level 8 programme. Graduates will have a variety of qualifications and certifications and may be eligible for professional registration in certain disciplines. Graduates are typically qualified to work as gym instructors, activity co-ordinators, personal trainers, sports development officers, PE teachers (requires additional qualification), youth development officers, leisure facility managers, adapted physical activity specialists, health promotion officers, but are not limited to these roles.
If you wish to pursue a Further education/PLC course, there are a number of courses on offer throughout the country. An example of such courses is the Sport and Recreation Studies Level 5 and Sports Development Level 6 courses which are run by a large number of further education colleges around the country, subjects taught include: Nutrition, Circuit Training, Sport and Recreation Studies, Resistance Training, Physiology & Anatomy, Body Conditioning and Sculpting, Exercise and Fitness, First Aid, Health and Safety, Work Experience, Communications and information Technology. Graduates of these PLC courses can go on to pursue careers in: Aerobic and Gym Instruction, Sports Development Officers, Sport Retail Sales and Freelance Fitness Instructors.
If you are considering pursuing a course that qualifies you as a Fitness Instructor or Personal Trainer; it is recommended to discuss this area with somebody already established and qualified in this sector and then visit any of the course providers. If you are committed to working out, eating right, and maintaining a healthy lifestyle, it is possible that you could turn your passion into a reputable income-generating profession!
To find Fitness Instructor courses and other fitness related courses view our fitness instructor courses and sports professional training options on Findacourse.ie.