Kinsale College
No courses presently listed for this provider.
Contact Details
Address:
Bandon Rd.
Kinsale, Co. Cork

Phone: 021 4772275
Website: www.kinsalecollege.ie
Location: County Cork
About Kinsale College
Kinsale College of Further Education provides a range of Post Leaving Cert courses. Courses provide exciting education options at QQI levels 5 and 6, opening new opportunities for training and work.
The college has a purpose built facility to accommodate students involved in Drama in the form of its impressive amphitheatre. The Professional Cookery students train in a professional kitchen and 16-seat restaurant.
The Sustainable Horticulture/Permaculture students have access to the market garden, two poly-tunnels and the college site for growing herbs, vegetables, fruit, nuts and flowers.
Students involved in technology training courses use Apple Mac computers and up-to-date software. The art students enjoy the dark room facilities and access to The Mill in Kinsale for their end-of-year exhibition.
All students have access to a supervised computer room for study and assignment writing, the computer room has printing facilities as well as free internet.
Other colleges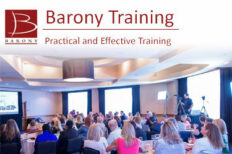 Barony Training is a corporate training firm. Barony is a dynamic independent consultancy and training provider, […]
Kilkenny, Nationwide
Job Skills, Private Sector
Accounting, Basic Computers, Built Environment, [...]