ICHAS (Irish College of Humanities and Applied Sciences)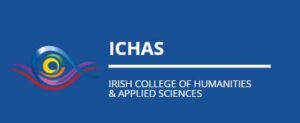 This Certificate in Addiction Studies (Gambling) is validated by QQI (Quality and Qualifications Ireland) at […]
Blended Learning, Online Courses - Distance Learning
Limerick
Continuous Intake
Contact Details
Address:
Limerick
Walton House, Lonsdale Road, National Technology Park, Castletroy

Phone: 061216288
Website: www.ichas.ie
Locations: Limerick City, Cork, Dublin, Galway, Nationwide, Waterford
About ICHAS (Irish College of Humanities and Applied Sciences)
The Irish College of Humanities and Applied Sciences is an independent third-level college that prides itself on its student-centred approach. The College offers a range of programmes at Level 6,7,8 and 9 on the National Framework of Qualifications. Our programmes cover an extensive range of disciplines including Addiction Counselling, Addiction Recovery, Childcare, Adolescent Studies, Psychology, Counselling and Psychotherapy and Youth Studies.
The College provides an academic environment that fosters personalised learning, enabling participants to develop their potential for life and for exciting careers in their chosen field of study.  All ICHAS programmes are accredited and awarded by Quality and Qualifications Ireland (QQI).
Programmes are designed to meet the needs of modern student life, accommodating learners who wish to study either part-time or full time. Many ICHAS programmes utilise blended learning, which combines traditional face-to-face lecturing with online learning. This facilitates greater access to education for all.
The academic staff at ICHAS have a wide and varied level of national and international expertise. The College prides itself on the fact that many of our academic staff maintain an active practice base and are actively engaged in research enhancing the overall value of the student experience.
The college is recognised for the individual attention that it gives to its learners. It works with each learner in ways that meet their individual needs and academic goals.
At the Irish College of Humanities and Applied Sciences, we believe that all students can achieve their full potential and we are fully committed to supporting learners on this journey – Our motto reflects this ethos as we are a college that is focused on 'Realising Potential'
Why Choose ICHAS?
Study, have fun, uncover a new passion or learn skills that just may change your life.
Learners can engage with our courses through a combination of face to face lectures and Blended Learning.
Learners can engage with our courses through a combination of face to face lectures and Blended Learning.
Develop the research and learning skills that will help define your professional development.
We have City Centre Campus in Dublin with our Limerick Campus only a few minutes drive from City Centre via car or public transport.
Blended Learning 
We've embraced innovative educational technologies in a number of ways at ICHAS, with the aim of delivering flexible education options for our students using blended learning. We broadcast most theory-based modules online, giving you the choice between attending classes face-to-face or joining in online. In addition, our learning management system enables us to use a number of innovative approaches to support learning beyond the classroom, including access to lecture recordings, mobile learning, video assessments, easy login to online libraries, and more.
At ICHAS, you'll also get access to an Office 365 Student account from Microsoft, including the option to download and install Microsoft Office for free, for the duration of your studies. This includes 1TB of online storage space using OneDrive, more than enough to hold and protect every one of your assignments.
Lecture Broadcast & Recording
At ICHAS, we offer all part-time courses at undergraduate and postgraduate levels through a blended learning approach. This simply means these programmes combine the best of traditional face-to-face teaching with online/remote learning. Many of your modules will be theory-based, and these classes will be broadcast online live while they're being taught in the classroom. This gives you the choice of whether to attend in person or online. The online learning platform isn't a passive experience – you can see the lecturer and the students in the class via webcam; ask and answer questions using your microphone, and view presentation slides as the lecturer explains them.
Contact us today on 061 216288 or email [email protected]
Images