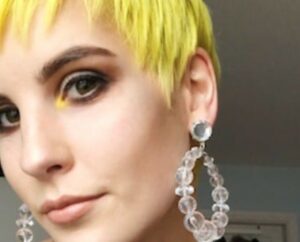 Amy was working at a supervisor level for Topshop/Topman and dabbled in both visual and merchandising and had a keen interest in all things fashion.
Amy had been working on a fulltime basis while completing her studies in fashion buying and merchandising part-time, confirming that "the course was manageable with a fulltime job." She found the course to be well rounded and was the perfect mix of buying, design and visual, ticking all the boxes across fashion.
One key highlight for Amy was the term spent completing visual display and learning all about display with an abundance of opportunity to be creative. "On completion of the core module I was asked I am delighted to confirm I was asked to move permanently to the VM team."
Amy was also chosen to go to Düsseldorf, Germany to be part of the working party to set up their brand new store. Amy got significant hands on experience working with VMs from all over Europe. "I fully launched their shoe department, assisted in setting up non-clothing and other departments too. I dressed mannequins and applied vinyl signs in all the store fitting rooms".
Amy confirms that while completing these important jobs it brought her back to the classroom having been taught how to create and apply your own vinyls.
"The course was short and sweet and all of us now have fulltime jobs on completion of the course at Portobello Institute and I'm loving my role as a full time VM and hope to continue being creative every day".