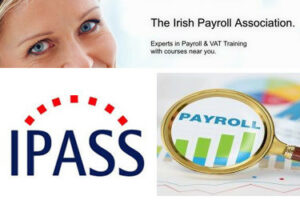 The Irish Payroll Association (IPASS) offers training & certification options in the areas of Payroll, VAT and Employment Law. IPASS specialise in training which covers the operation of PAYE, PRSI, Universal Social Charge (USC), VAT and the operation of Employment Law.
IPASS also provide training in the operation of Relevant Contracts Tax (RCT), Professional Services Withholding Tax (PSWT), UK Payroll, Pension Trustee Training, International Payroll and management training courses.
There are a wide selection of 1 Day Training Courses available to those looking to up-skill. Consultancy services are also available in all of the areas covered by the training courses.
IPASS offers a series of classroom based courses, distance/online learning, in-house and 1 day courses which are run continuously throughout the year on a nationwide basis.
The association represents a cross-section of payroll professionals and businesses from every sector of the economy and are recognised by both the business community and
Government Departments as the leading providers of information and education on payroll, VAT and Employment Law related matters.
At a time when payroll operations were never more complex, IPASS provides educational seminars, an annual Payroll Conference and Exhibition, a membership body, representation to Government Departments and  also offer additional services to help members and students to enhance their payroll operations, to meet new legislative requirements and to address changes in the workplace.
Some of the courses on offer from IPASS include;
Certificate in Payroll Techniques Nationwide
Certificate in Payroll Techniques by Distance Learning
Certificate in VAT Techniques
Diploma in Payroll Management
Short Courses
Relevant Contracts Tax
Practical VAT
Advanced VAT
Annual Update Day
Withholding Tax (PSWT)
Employment Law
Essential Employment Law
Protection Legislation
Redundancy & Unfair Dismissals
Staff Handbook
State & Semi State Courses
Practical Payroll
ASC & the Taxation of Illness Benefit
Advanced Payroll
VAT Treatment of Goods
VAT Treatment of Services
International Payroll
End of Year Procedures
UK Payroll Update Day
International Payroll
French & German Payroll
Payroll Training
Practical Payroll
Intermediate Payroll
Advanced Payroll
Taxation of Benefit in Kind
Payroll Health Check
Understanding Your Payslip
Management Courses
Presentation Skills for Professionals
Time Management
Dealing With Difficult Situations
High Performing Payroll Teams
Coaching & Developing your Employees
For more information on IPASS, view their Findacourse page
Contact Institute - Irish Payroll Association