Irish Payroll Association

Featured
The Certificate in Payroll Techniques (CPT) is the leading payroll qualification in Ireland. The course […]
The IPASS Professional Payroll Manager course has been specifically designed for the needs of Irish […]
This extremely practical course deals with all of the issues, which are important to those […]
The Certificate in Payroll Techniques (CPT) is the leading payroll qualification in Ireland. The course […]
Contact Details
Address:
9 Western Parkway Business Centre
Dublin 12

About Irish Payroll Association
For over a decade the Irish Payroll Association (IPASS) has been the leading provider of nationwide training and education on Payroll, VAT and a wide range of taxes.
Established in 2000 it provides nationally recognised professional qualifications in Payroll which is accredited by QQI, Higher Education Award, Level 6, Special Purpose. IPASS is the only national representative body for payroll professionals in Ireland and works tirelessly to promote excellence within the payroll profession.
Trusted and respected by many of Ireland's top businesses, IPASS sets the standard in Payroll and VAT training. Our lecturers are distinguished by their functional and technical expertise combined with their hands-on experience, thereby ensuring that our clients receive the most effective and professional service.
Membership includes many of Ireland's top companies and IPASS pride themselves on a proven track record of providing excellence in training and support for clients and members.
Images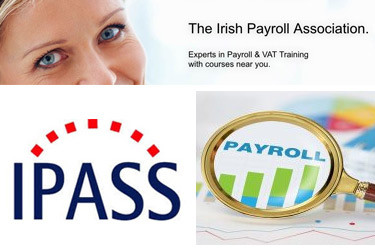 This website uses cookies to improve service and provide tailored ads. By continuing to browse the site you are agreeing to the use of these cookies. Accept Cookie Policy
Privacy Overview
This website uses cookies to improve your experience while you navigate through the website. Out of these, the cookies that are categorized as necessary are stored on your browser as they are essential for the working of basic functionalities of the website. We also use third-party cookies that help us analyze and understand how you use this website. These cookies will be stored in your browser only with your consent. You also have the option to opt-out of these cookies. But opting out of some of these cookies may affect your browsing experience.
Necessary cookies are absolutely essential for the website to function properly. This category only includes cookies that ensures basic functionalities and security features of the website. These cookies do not store any personal information.
Any cookies that may not be particularly necessary for the website to function and is used specifically to collect user personal data via analytics, ads, other embedded contents are termed as non-necessary cookies. It is mandatory to procure user consent prior to running these cookies on your website.