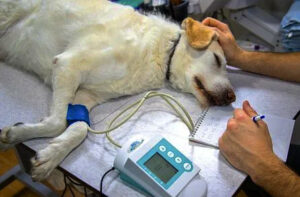 A Veterinary Nurse assists the Veterinary Surgeon in the diagnosis and treatment of animal diseases and injury. They will prepare equipment and animals before surgery, assist during surgery, carry out x-rays, administer medicines, carry out laboratory work and look after the general cleanliness of the practice and hygiene of the animals in their care.
Some nurses will look after reception and administrative duties in the small practices, but this is usually not the case of larger facilities. There are opportunities for Veterinary Nurses outside of Veterinary practices and these are provided through organisations such as the ISPCA, and through grooming and boarding kennels, zoos and wildlife parks.
UCD have a four-year full-time Bachelor of science (veterinary Nursing) degree programme which has an average intake of 44 students and is designed to provide graduates with the academic foundation and practice skill competencies with which to build a career as a Veterinary Nurse. Stages one and two will take place on the university campus with students undertaking high quality modules delivered through lectures, tutorials and practical classes, covering all aspects of veterinary nursing. In stage three and four, students will engage in taught modules and work placements within veterinary practices that are committed to veterinary nurse training.
A Bachelor of Science in Veterinary Nursing is offered through Athlone Institute of Technology, Dundalk Institute of Technology and Letterkenny Institute of Technology. These must be applied for through the CAO. There is also a PLC in Veterinary Nursing Offered by St.John's College in Cork which aims to equip students with the advanced knowledge required to become an effective member of a veterinary practice.
Resources
AL731 Veterinary Nursing – Level 7
DK784 Veterinary Nursing – Level 7
DN310 Veterinary Nursing – Level 8
LY847 Veterinary Nursing – Level 7