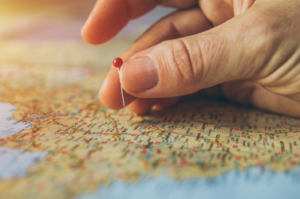 Even during the global economic downturn, travel and tourism remained an industry with an extensive and diverse market to cater for. Here in Ireland, the tourism industry is about encouraging international tourists to come and spend their time and money sampling Irish products and services. It is also about making Ireland attractive to Irish holiday makers and encouraging 'staycations'.
This is an industry that incorporates a number of different jobs, including: accommodation, leisure activities, food and drink providers, tourism service providers, events and conferencing facilities, tourist attractions and the transport and travel trade. The travel industry also specifically deals with the actual logistics of transporting clients/customers from one destination to another and the promotion of these services.
Areas of work in the travel industry include travel agencies/consultancies, tour operators, individual/group handling agencies and destination management companies (DMCs). Many general tourism roles could also be available to graduates of travel industry programmes.
Some examples of graduate jobs in the tourism and travel industry are:
Travel consultant
Tourism officer
Reservations agent
Tour guide
Tourist Information Centre manager
Tour operator
Operations manager
Cabin crew
Heritage officer
Business support roles, such as HR, finance and IT, are also available in all areas of the tourism and travel industry.
The main employers include Fáilte Ireland, Tourism Ireland and the Northern Ireland Tourist Board. Outside of these bodies there are positions with tourism information centres, regional tourism bodies, local authorities, travel companies and tour operators, travel/transport authorities and providers, interpretive centres, heritage sites. There are also specialist tourism areas such as eco-tourism, sustainable tourism, food and drink tourism, agri-tourism and adventure tourism have also grown in recent times. With an increasing awareness of health issues and the importance of fitness – many people want to combine a holiday with out-door activities like kayaking or mountain climbing. Cruise line companies are also well worth considering as a potential employer as this is one of the few areas of this tourism/hospitality sector which has shown significant growth in recent years.
To get a job in the tourism and travel sector you will typically need a third-level qualification or training, often to degree level.
Tralee IT offer an honours degree programme in Travel & Tourism Management. This course is designed to prepare students for a wide variety of career opportunities in the Travel and Tourism Industry.
On completion of this programme you will have developed management skills in:
Tour guiding
Travel agency practice
Communication and language
Information Technology
Business (marketing, human resources, management, enterprise development)
Business Planning/Project Management
Event management
Research methods.
This is an opportunity to study a unique travel and tourism management programme in Kerry, Ireland's premier tourism county. Students benefit from the wide range of tourism facilities and attractions in the area and the close links the college has with industry. GMIT also offer potential students a degree programme in Tourism studies.
There is also the option of attaining a QQI Level 5 qualification in Tourism and Travel. Portobello Institute run such a course, as do Moate Business College. With the internationally recognised certifications from Portobello Institute (including travel agent certifications) you could choose to establish a career anywhere in the world. You will study about tourism awareness, customer service, cultural studies, marketing practice, and tourism enterprise. This course, like others, include a work placement.
QQI courses (available throughout the country) are designed to provide students with a broad range of skills and knowledge in preparation for travel related careers. The course in Moate like many other PLC/Further Education courses also covers Computer skills, Office and Business Administration. Graduates will receive certification in ECDL, QQI level 5 in Office & Business Administration and QQI level 5 in Tourism & Travel.
The course content consists of:
Tourism and Travel Services
Tourism Awareness
Customer Service
Tourism Enterprise
Reception
Heritage
Profile of Rural Tourism
Graduates of Further Education Tourism and Travel courses have found employment with:
Airlines-Cabin Crew or Ground Stewards
Tour Guide
Ferry Travel
Holiday Representative Abroad
Airline Reservation Sales
Holders of a QQI award at level 5 may apply for degree courses under the Higher Education Links or via the pilots Link Scheme (where specific courses accept certain QQI qualifications).
There are also specific skills in the travel and tourism industry that you can be certified in. The Galileo Reservations Certificate is one example. The International Career Institute run such a course. This certificate is often necessary if you are interested in working in a Travel Agency, with a Tour Operator or in an Airline Reservation Department. It would also be useful for those already working in the industry, who wish to obtain qualification through home study.
Regardless of whether you come into this industry sector via distance learning, further education or the CAO system, it is important to remember that this is a service industry, first and foremost, so you must have patience, flexibility and excellent interpersonal skills. Cultural sensitivity and awareness are critical, as tourism professionals deal with different countries and cultures.
The tourism industry will continue to change as both the global economy changes and various new destinations come on board as tourist destinations. An obvious trend is the increase in internet services and increasing competitiveness. The Web has created new and different career options for those interested in travel/tourism careers. Individuals can work for travel web-sites and/or go on to write for travel and tourism publications on-line and in print.
Once, you are qualified in this sector, it is recommended, to continually up-skill, in order to climb that travel and tourism career ladder.