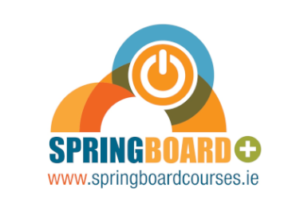 Springboard which was first launched as part of the Government's Job's Initiative in 2011, is a strategy which targets funding of free higher education courses to enable jobseekers to up-skill or re-skill in areas where there are identified labour market skills shortages or employment opportunities.
Springboard courses range from levels 6 to 9 on the National Framework of Qualifications (NFQ). Courses are delivered in areas such as ICT, manufacturing, international financial services, hospitality and entrepreneurial/business start-up skills. Work placements are offered on almost all of the courses.
The ICT skills conversion programme is targeted at jobseekers who already hold a level 8 or equivalent qualification and have the capacity and underlying aptitude, to undergo an intensive full-time programme of study and work experience, to acquire honours degree level ICT programming skills. The ICT skills conversion programme is also available to eligible participants on a part-time, two year option.
Springboard courses and the ICT skills conversion programme are now run as a joint initiative under the banner brand Springboard+.
Springboard+ is funded by the National Training Fund with co-funding from the European Union under the European Social Fund, as part of the ESF Programme for Employability, Inclusion and Learning 2014-2020. No fees are charged to participants.
Springboard  which incorporates Springboard courses and the full-time and part-time ICT skills conversion programme, provides for 9,266 places on 288 courses in public and private educational institutions throughout Ireland. All courses selected for funding under Springboard are in areas of identified enterprise skills needs. Courses were selected, following a competitive call for proposals, by an independent evaluation panel using published criteria that included value for money, flexible delivery, engagement with industry and skills relevance. Courses approved for funding be in the following skills areas:
ICT
Manufacturing (including the biopharma sector
Financial services
Entrepreneurship
The hospitality sector.
Springboard Plus
Under Springboard+ expanded the eligibility criteria to include homemakers and those in employment including those in self-employment who wish to upskill, reskill or cross skill in the Biopharma/Med Tech sector and those in employment, or self-employment in the ICT sector who wish to upskill from a level 7 to a level 8 qualification.
To date over 35,000 free higher education places have been provided under Springboard+
How to Apply
Further information on Springboard+ including entry requirements and eligibility criteria are available on the dedicated information and applications website: www.springboardcourses.ie. Applications are submitted online and decisions around the award of places on the programmes are a matter for individual course providers.