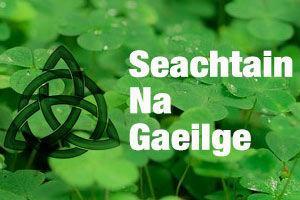 Seachtain na Gaeilge (Irish Language Week) runs from the 1st to the 17th of March 2020, this international Irish language festival is one of the biggest celebrations of our native language and culture that takes place each year. The festival gives an opportunity to everyone to enjoy Irish, whether you are a fluent speaker, improver or just have a cúpla focal, with a calendar of entertaining and fun events for every interest and age group. Voluntary and community groups, local authorities, schools, libraries, and music, sports, arts and culture organisations organise events for Seachtain na Gaeilge in their local area.
The festival was first established by Conradh na Gaeilge in 1903, and Seachtain na Gaeilge is now sponsored by Foras na Gaeilge. Events during the festival include music sessions, speed-dating, and street céilís. Over 150,000 people of all levels of fluency in Irish take part, including thousands of children from schools and youth clubs in Ireland. Seachtain na Gaeilge was relaunched by Conradh na Gaeilge in its present format in the late 1970's. Some of the past events during the festival included the unveiling of a headstone on the grave of Brendan Behan in Glasnevin cemetery. Behan was a proud Irish speaker and some of his main work was originally written in Irish.
For those who may be interested in learning Irish online there are basic options available on websites such as Udemy.com and Duolingo.com while Ranganna.com provides more comprehensive learning options for Irish language enthusiasts.
Some of this years events can be viewed on Peig.ie at the link below with listings for Ceili dancing, storytelling, free guided tours and more…
https://peig.ie