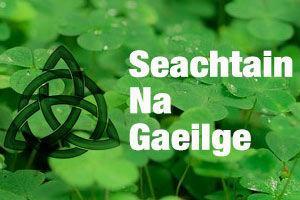 Seachtain Na Gaeilge runs from the 1st to the 17th of March, so dhá seachtaine might be more appropriate, but maybe it's best not to argue the point with many past students of Irish having less than fond memories of learning the cúpla focal during school years.
These days a more fun approach is often far more successful when it comes to learning our native language and maybe that's why this festival continues to enjoy success after many years.
The festival was first established by Conradh na Gaeilge in 1903, and Seachtain na Gaeilge is now sponsored by Foras na Gaeilge. Events during the festival include music sessions, speed-dating, and street céilís. Over 150,000 people of all levels of fluency in Irish take part, including thousands of children from schools and youth clubs in Ireland.
The festival motto is "Croí na Teanga – It's You!" (The Heart of the Language – It's You!). Seachtain na Gaeilge was relaunched by Conradh na Gaeilge in its present format in the late 1970's. Some of the past events during the festival included the unveiling of a headstone on the grave of Brendan Behan in Glasnevin cemetery. Behan was a proud Irish speaker and some of his main work was originally written in Irish.
Some of this years events can be viewed on Eventbrite at the link below with listings for Ceili dancing, storytelling, free guided tours and more…
https://www.eventbrite.ie/d/ireland/seachtain-na-gaeilge/