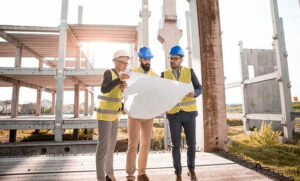 Becoming a Quantity Surveyor in Ireland – Quantity Surveyor Course Options
A Quantity Surveyor is responsible for advising building owners and architects on probable cost of construction schemes and on cost of alternative designs. He/She is a building economist who is sometimes known as a construction cost consultant.
Working as part of the overall building and design team, their job is to calculate the cost of a construction scheme based on the architect's and engineer's specifications and to ensure the project stays within budget. This would include identifying cost of labour, materials and overheads. A good grasp of mathematics and detailed and up to date knowledge of materials and their suitability for different usage are essential for the work. The work also involves dealing with a wide variety of people so good communication skills are useful.
Bachelor of Science (BSc – Hons) in Quantity Surveying 
The BSc (Hons) in Quantity Surveying aims to provide graduates the skills to successfully operate as professional quantity surveyors and costs consultants in the future Irish and international construction industry. They will be able to communicate effectively, have a working knowledge of relevant Information and Communications Technologies (ICT). The course also provides students with industrial paid work placement in top tier local and internationally based quantity surveying firms in year three of the programme for up to 30 weeks. The course is fully accredited by the Society of Chartered Surveyors Ireland (SCSI), which allows graduates to progress and become chartered quantity surveyors on completion of this programme.
Quantity Surveying Full Time BSc Course Options
Waterford – WD162 – Quantity Surveying – Level 8
Sligo – SG343 – Quantity Surveying – Level 8
Limerick – LC243 – Quantity Surveying – Level 8
Quantity Surveying Part Time BSc Course Options
Quantity Surveying Online BSc Course Options
View other Built Environment Courses in Ireland on Findacourse.ie