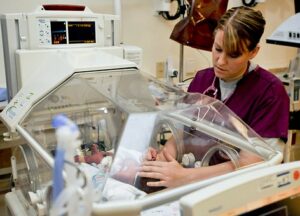 PLC or Further Education Nursing Courses can be an ideal way to enter the profession for students who may not have the points to enter a nursing degree programme. They are also valuable courses in their own right as they can lead directly to work placement in several caring and health-care roles as well as providing insights into the world of caring professionals. The courses include work placement and practical work pertaining to the career which will be useful before committing to a longer term course in this area.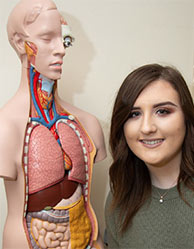 Several colleges offer nursing studies courses at QQI levels 5 and 6, one of these is Moate Business College in Westmeath. A previous student of the college – Amy Martin – has proclaimed the benefits of the course which led her on to a degree placement in Athlone Institute of Technology. The former student says of the college "I was the type where it was an effort for me to go to school, but with the business college, if there was a day I couldn't go, I was really upset. If you like what you are doing, it makes it easier to put the work in." Amy excelled at the college achieving 8 distinctions which allowed her to progress onto higher education (a minimum of 5 distinctions are required to be considered for progression).
The nursing studies course with Moate Business College introduces students to a wide variety of modules with a work placement element to the programme, which gives the student the opportunity and the experience of working in a setting of their choice under supervision. The programme also prepares the students for interviews,  progression to third level colleges, UCAS and CAO preparation and the college has established links with colleges and institutions both in Ireland and the U.K.
Level 5 Nursing Studies courses usually include the following modules..
Care Provision & Practice 5N2705
Care of the Older Person 5N2706
Palliative Care 5N3769
Nursing Theory and Practice 5N4325
Human Growth & Development 5N1297
Anatomy and Physiology 5N0749
Social Studies 5M1370
Communications 5N0690
Work Experience 5N1396
Workshops are usually offered, these may include..
Occupational First Aid
Manual Handling
Palliative Care Support
Nursing Workshops with SRN Nurse
To view a selection of nursing studies and healthcare courses on Findacourse.ie, view the following link – https://www.findacourse.ie/courses/nursing/