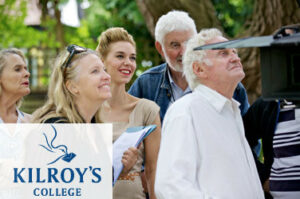 Kilroy's College has launched a suite of film-making training courses in partnership with the Irish Film School. The Irish Film School was set up in January 2018 by iconic film director John Boorman and leading film producer and financier Kieran Corrigan.
They provide professional training courses in filmmaking, film production, visual FX and the business of film. The training courses have been carefully designed by the founders who lead a team of accomplished instructors, including Hollywood legend Roger Corman and Academy Award winning VFX house DNEG.
These courses will help students to develop the creative, technical and business filmmaking skills needed for today's dynamic global film industry. They will also be able to network with fellow students, instructors and industry professionals during each course.
Expert Instructors
These intensive, hands-on classes are taught by the world's most experienced film and TV professionals. Instructors are fully qualified, active members of the film industry in all fields of filmmaking: directing, producing, screenwriting, visual FX, cinematography, lighting, sound, editing, post-production and more.
IFS instructors also work at the business end of the film industry in the domains of finance, legal, tax, insurance, sales and distribution.
Training Courses
Kilroy's College, in partnership with the Irish Film School, will be running five short, intensive training courses in autumn 2018 and spring/summer 2019 in Dublin, London and Beijing.
Filmmaking with John Boorman. Work includes: Queen & Country (2014), The Tailor of Panama (2001), Hope and Glory (1987), Excalibur (1982), Deliverance (1972), Point Blank (1967)
Business of Film with Kieran Corrigan. Work includes: Supervized (2018), We Have Always Lived in the Castle (2018), Queen & Country (2014), Country of My Skull (2004), The Tailor of Panama, The General (1998), Thumbelina (1994)
Film & TV Production with US film and TV line producer Tom Kane. Work includes: Crossfire Trail (2001), Prizzi's Honor (1985), The Flamingo Kid (1984), Raging Bull (1980), Kramer v Kramer (1979)
VFX with Academy Award winners DNEG. Work includes: Mission Impossible – Fallout (2018), Blade Runner 2049 (2017), Dunkirk (2017), Ex Machina (2014 )
Smart Filmmaking with iconic Hollywood director Roger Corman. Work includes: Death Race 2050 (2016), Frankenstein Unbound (1990), Little Shop of Horrors (1960), Attack of the Crab Monsters (1957)
Advisory Groups
Irish Film School have partnered with leading industry advisory groups: Merlin Films, Great Point Media, DNEG, New Horizons, China Film and Kilroy's College to ensure that the training programmes deliver the most up-to-date skills and best experience.
Contact Institute - Kilroys College Online Learning