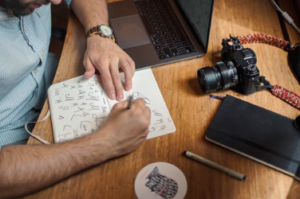 For anyone who loves being creative, thinking outside the box, using their hands, working on projects and exploring, experimenting and questioning ideas, then a career in the field of media, art and design can be very rewarding. There are a wide spectrum of courses in the creative fields; whether it's a full time course to begin a creative career, a postgraduate course to broaden skills or perhaps a part time course for those who just want a creative outlet; there is something for everyone.
A wide range of colleges offer degrees in various areas of media and design. IADT in Dublin offers BA degrees in areas such as Visual Communication Design, Photography, Model Making, Computing and Multimedia programming and Design for Screen and Stage to name a few. IADT also offers a variety of 1 to 2 year post-graduate courses such as MAs in Visual Arts Practices, Screenwriting for film and television, Broadcast Production for Radio and Television. Other colleges to offer degrees in similar areas are DIT, Griffith College, University of Limerick, Galway Mayo Institute of Technology, Dundalk Institute of Technology, Letterkenny Institute of Technology, NUI, Institute of Technology Carlow and many more. These full-time degree courses are typically 3 to 4 years in length and there is everything from Creative Design and Innovation to BAs in Interior Design and Furniture to choose from.
Part-time evening courses are great for those who would like to develop a hobby or even turn a hobby into a way of making extra money by fine tuning your skills. There is a vast selection of these courses on offer and they range in length from flexible study to 4 weeks onto those which are a few months in length. The choice of specialisations are also varied. Courses in Fashion, Theatre and Media Make up, Photography, Lighting Design and History of Art courses are just a sample of what's out there. Taking part in an evening course is the perfect way to learn new skills, or to develop on existing ones or as a taster experience in new areas that you may like to get more familiar with.
You don't even have to leave the comfort of your own home to study in the field of media and design as there are also lots of distance learning courses available, meaning that you can study online and fit your course work around your life in a way that suits you. The International Career Institute, Kilroy's College and the College of Management and IT all offer courses such as Floristry, Jewellery Design and Landscaping through their distance learning programmes. These courses generally run on 28 weekly instalments and can be a great starting point for developing a new career.
Portobello Institute and KCAT Art and Study Centre both offer PLC and Further Education courses in the field of media, art and design. Portobello Institute offers a full-time course in Multimedia Production over the course of 2 days for 25 weeks. Offering a level 5 QQI qualification, provides key design skills and gives an overview of multimedia production techniques. KCAT Art and Study Centre is offering 2 PLC courses; one in Visual Art and the other in Theatre Performance. Both provide level 5 QQI qualifications and are full-time. In the Visual Arts course there is the opportunity to study drawing, painting, printmaking, sculpture and more. The course runs for 2 years is 9am-4pm daily. The Theatre Performance course covers Acting Skills and Techniques, Performance Craft, Theatre Studies and includes work experience. It runs for 1 year from 9am-4pm daily.
So whether you are itching to leave your office job, dream of a future career in photography or interior design, see your name in lights or simply want to indulge your creative side, get those creative juices flowing and sign up for one of the many courses out there!
Resources: Media, Art and Design Courses on Findacourse.ie
Author
Fiona McBennett