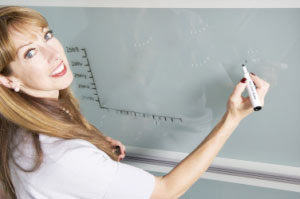 Thinking of a career in Teaching? If you have a Level 8 degree and a C3 (higher level) in Irish, now could be the time to find out if this is the right fit for you. An independent teacher panel can assess you, as regards to your potential as a teacher.
A successful interview will enable you to plan for your Professional Master of Education in Primary or Post Primary Education, by allowing you to:
A) Accept a place now on one of Hibernia Colleges' September programmes, or
B) Defer out to one of Hibernia Colleges' programme intakes in April or September allowing you time to plan accordingly.
If you would like to explore these options further then fill in the form or call one of the Hibernia College advisors on 086 1449 044 from 9.00 a.m. to 9.00 p.m. weekdays or 10.00 a.m. to 6.00 p.m. on weekends and they will be happy to assist you on your journey to a successful career in teaching.
PRIMARY AND SECONDARY SCHOOL TEACHING
There is a highly favourable employment outlook for primary and secondary school teaching graduates.
According to the Irish Independent, Public Expenditure Minister Howlin said the country would need an extra 3,500 primary and secondary school teachers by 2021.
POST PRIMARY EDUCATION – PROFESSIONAL MASTER OF EDUCATION
A Masters in Post Primary Education – Professional Master of Education is perfect for you if you want to be a part of the growth and development of teenagers aged 12-18.
As a secondary school teacher, or post primary teacher, you will specialise in two subjects and you will teach these to students from the first year to the sixth year. It is your enthusiasm and focus on your subjects that will motivate and foster a love of the subject material by students, thereby ensuring that they bring as much learning as possible with them in their future endeavours. As the famous quote goes "Teaching is the one profession that creates all other professions."