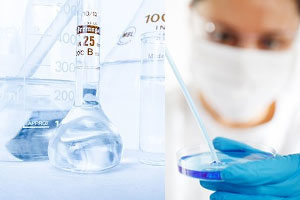 A laboratory technician has an important role assisting medical, scientific and technical staff with duties such as research, testing and conducting experiments. Scientific laboratory technicians are responsible for tasks such as sampling, testing, measuring, recording and analysing results in biological, chemical, physical and life sciences. They also provide all the required technical support to enable the laboratory to function effectively, whilst adhering to correct procedures and health and safety guidelines.
The exact nature of the work will depend upon the scientific or medical field. For example lab technicians working for a local authority, like a health board or a county council, may have work involving analysis of food samples to protect public health, or to monitor and analyse public water supplies.
Lab technician duties typically involve:
Performing laboratory tests in order to produce reliable and precise data
Carrying out routine tasks accurately and following strict methodologies to carry out analyses
Preparing specimens and samples
Constructing, maintaining and operating standard laboratory equipment
Ensuring the laboratory is well-stocked and resourced
Recording and sometimes interpreting results to present to senior colleagues
Using computers and performing mathematical calculations for the preparation of graphs
Keeping up to date with technical developments, especially those which can save time and improve reliability
Educational Requirements
Laboratory Technicians are required to have a third level qualification in a relevant science discipline. If you want to 'test the water' before committing to a four year honours degree programme – Sligo IT run a two-year Higher Certificate Science course. This is designed as a foundation course in science and builds key skill sets in analytical science related to current demand in the economy. The course provides students with a core foundation in applied science and has an emphasis on hands-on practical laboratory science. There are elective choices in year one which allows students to experience thematic areas developed in year two. In the second year of the course, students are allowed the flexibility to follow an applied science theme in either biology or chemistry.
Graduates will have strong analytical science skills and will be suitable for progression onto ordinary degree (level 7) and honours degree (level 8) courses in pharmaceutical science, medical biotechnology, environmental science, occupational safety and health. Graduates are employable as technical scientists in a wide range of industries and government sectors including the pharmaceutical, biopharmaceutical, medical device, medical diagnostic, food and beverage, and biotechnology sectors.
There are numerous Science degrees on offer via the CAO entry system, should you wish pursue a career in this area – whether as a laboratory technician, in the pharmaceutical, medical, food/beverage or biotechnology areas, amongst others.
The CIT / UCC joint BSc (Honours) Degree in Biomedical Science is one of only three Honours degree programmes in the Republic of Ireland, which are recognised by the Academy of Medical Laboratory Sciences (professional body) as enabling graduates to practise in hospitals in the State. Biomedical Science is a continually changing dynamic profession and involves study of the diverse areas of medical science including Biochemistry, Microbiology, Cellular Pathology, Haematology and Transfusion Science.
For those who have a relevant science degree and are interested in becoming skilled as a laboratory technician, course providers such as Biologiq offer laboratory courses such as "Laboratory Management Systems" and "Good Laboratory Practice" courses. These courses will also be of interest to those already working in the field to upgrade existing skills and learn some new ones. These courses can be seen at https://www.findacourse.ie/courses/laboratory/
The government continues to promote and encourage students to undertake science degrees as there is currently a labour shortage in this area. Remember, opportunities exist with government bodies, research institutions, hospitals, engineering/manufacturing firms, and processing industries – both in Ireland and internationally.