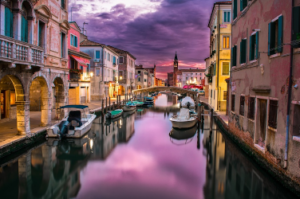 The Italian language conveys a whole lot of emotion as Italians do themselves. This melodic language – whether used to talk or argue still sounds bellisimo! The Italians are among the most expressive and romantic in the world. So it is little wonder that many choose to immerse themselves in this wonderful language.
If you want to learn Italian you will be joining over 70 million speakers. Many will want to learn the basics of the language to make an upcoming stay in this cultural destination more enjoyable. For this purpose an evening class in Italian or distance learning Italian class may suit best. There are also many career benefits that an Italian speaker will gain access to. For this purpose a more in-depth or advanced Italian course will probably be necessary.
So, whether you want to order in Italian in an authentic Italian restaurant, have an Italian summer romance with dialogue, understand Pavorotti when his voice pulls at your heart strings or put a language under your career belt – you can't go too wrong with Italian. No matter what your motivation – the opportunity to work overseas, cultural exchange in a land steeped in history and culture – you will unveil new worlds when learning Italian. If you have made up your mind to learn Italian or improve on what lessons you've already taken – ensure that you pick the language course suitable for you.
Is Italian easy to learn? Yes, when you take into consideration the following:
Italian words are written in such a way that you can immediately pronounce them. As a romance language it will help if you are already familiar with another romance language like French.
Intonation can be easily learned with audio. If you don't get the intonation right people won't understand you.
Italian is definitely fun to learn and relatively easy to pronounce with the exception of that dreaded 'rolled r'. But remember out of 26 letters, one ain't bad to get your head around!
To help you get up close and personal with Italian are many helpful courses like those offered in NUIG. Their diploma course is run in the evenings. On completion students acquire a very high level of oral and written communication skills in the Italian language for personal, travel or professional purposes.
Sandford Languages Institute offer part-time courses catering for all levels and Malahide Community School through their adult education programme also offer an evening course for those who wish to study Italian for beginners (course semesters start each Autumn & Spring).
Now let's look at specific career areas that require a knowledge of one or more foreign languages. Jobs such as translating, interpreting and language teaching require proficient language skills. For other jobs a combination of languages and other qualifications, knowledge or skills may be needed. For example, people with languages plus IT, law, finance or sales skills are much sought-after.
There are specialist language occupations. These include working as a translator, interpreter, language teacher or linguist. For the former three you'll need an in-depth knowledge of one or more foreign languages. Linguists don't necessarily need to speak foreign languages, but such knowledge can be useful for them.
Whether you wish, to travel through Italy or find a job where a pre-requisite is the Italian language – having a second language like Italian will enrich your life personally, culturally and professionally. Ciao!