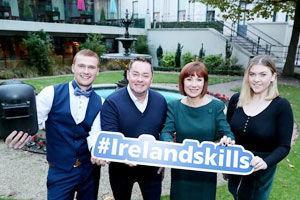 Ireland Skills Live is takes place in the RDS each year. The event showcases World Skills, Apprenticeship and wider Skills opportunities across Ireland.
Ireland Skills Live also hosts the National skills finals – a unique showcase of over 20 varied skills in a competitive setting, the winners in each event having the opportunity to represent Ireland at the World Skills Olympics in Russia. Attendants will have the opportunity to view Ireland's leading skills and trades people put their skills to the test in the hope of winning the prestigious National Champion title.
Participants will also be able to take a more hands-on approach and discover the different types of techniques and tools required in a large variety of trades and skills such as automotive services, building & construction, client services, computing & business, hospitality services and metals & engineering. This is a unique opportunity to learn through fun, interactive classes and activities delivered by industry experts. Uncover your talent at Ireland Skills.
​Some of the Try a Skill activities that participants can come and try include:
Hospitality & Client Services

Building & Construction

Automotive Services and Metals & Engineering

Computing & Business
Participants will learn about up-skilling options available in apprenticeship, traineeship and graduate courses. It will encourage students, their parents and in some cases teachers and careers advisers to engage positively with career choices that provide learning and earning potential from the first day of registration.
To learn more about Ireland Skills Live and to register to attend the event view their website at https://www.facebook.com/IrelandSkillsLive/