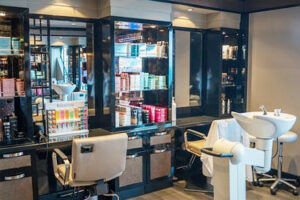 Have you wanted to find a new career path, learn new skills or simply need a change? If so hair and beauty courses are a great way to not only teach you how best to take care of yourself but could also lead to supplementing your income, or embarking on a new career. One thing to bear in mind is that a lot of beauty treatments require specialist training, and if you are looking for employment in this area you may need to check that the course offers relevant certification.
The courses on offer range from beginners to advanced. Whether you're interested in make-up and beauty, beauty therapy, nail technician courses, hair dressing, make-up artistry, massage, facials or waxing, hair and beauty courses are widely varied and you will usually be able to find one to suit your schedule and requirements. More detailed courses will delve into elements of nutrition which impact personal well being and how diet and nutrition affects beauty. You will gain an understanding of cosmetic chemistry so your services can be customised for your clients based on skin type and colouring.
Bronwyn Conroy Beauty School in Blackrock, Dublin 4, provides many beauty, make-up and Advanced courses in Dublin and is recognised throughout the Beauty Industry for superb standards, obtained through the teaching methods used as well as and adherence to standards of excellence. The school has recently added a Cork location so many of the courses are now also available in Cork.
St. Louis Community School in Kiltimagh, County Mayo offer a range of QQI accredited beauty therapy and hairdressing courses. They also offer part time courses on subjects such as ear piercing, tanning techniques and hair extensions.
Beauty Board College in Churchtown, Co. Dublin, has been at the forefront of innovation and excellence in Irish Professional Beauty training for over 10 years. Beauty Board were the first in Europe to launch Brows Extensions, Brows Stem Cell and Scalp Pigmentation Training. The college provides accessible, engaging training programmes, which lead to nationally and internationally recognised qualifications.
Colour and Image Academy in Cork and Limerick offers more in depth training with courses such as 'Make-up Artistry Course' and 'Make-up Training Techniques'.
Kilroys College offers distance learning courses such as the 'Beauty Therapy Specialist Diploma course' and the 'Nail Technician Specialist Diploma training course', which would allow you to attain the skills you desire from your own home.
Deane Hair Academy is based in Claregate St. in Kildare. The academy started up in September 2008 and has seen many successful graduates since that time. Students on the Hairdressing Diploma Course learn the many different hair styling, colouring and cutting techniques as well as the practical side of working in a busy hair salon.
To view a range of hair and beauty courses in Ireland, visit; Findacourse.ie/courses-ireland/hair-beauty/a/t/
For more information on beauty courses in Ireland view Beautycoursesireland.com where you can view a range of course providers and course information.