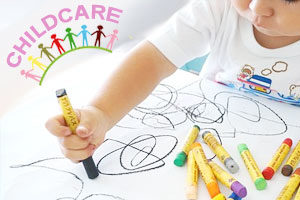 The demand for high quality childcare continues to increase in Ireland and as a graduate in this sector – you are entering a flexible career with a wide range of placements to choose from.
A level 5 QQI award in Childcare could gain you employment in creches, nurseries, playgroups, early start programmes or as a classroom assistant in a special school. Of course your award can also be used as an educational passport to progress further in your career and travel up the national framework of qualifications or it can be converted into points which will allow you to apply for any number of courses in non-childcare disciplines in third level institutions. (see www.qqi.ie for further information).
If you choose to specialise in an area like Montessori Education– you are broadening the age groups you can work with.  As a graduate in Montessori you can work with children aged 3-6 and 6-9 inclusively. The Montessori Education Higher Certificate in Arts course provides students with the relevant knowledge and skills to empower them to make a significant contribution within the highly acclaimed Montessori sector. The Montessori College AMI(Association Montessori Internationale) offers a full time three year course. At the end of year 3 you can work with children up to 12 years of age. This course is recognised by the Department of Education and Science for teaching in special primary schools for children with disabilities, as is the BA in Montessori Education in St Nicholas's Montessori College in Dun Laoghaire.
Portobello Institute also offers a number of different courses including certificate and diploma options with regard to Montessori training. It is important to note that this specialised area of childhood education continues to grow in Ireland. With experience, many teachers set up their own schools, and there are good opportunities for trained Montessori teachers in the rest of Europe and the USA.
Throughout their career, childcare and Early Years workers can undertake work-based vocational and professional qualifications and go on to do part-time or full-time degrees. With appropriate training and qualifications staff can become supervisors, managers, open their own business or become Early Years Specialists. Therefore the idea of progressing further in the field you are passionate about is always an attractive option professionally and financially.
University of Galway's Early Childhood Studies and Practice degree course offers the student an extensive range of topics to study – ensuring the graduate will be skilled in a wide range of issues and areas that could see them employed in community and outreach settings to family and community resource centres or even in the policy development area. Graduates of this course may even progress further to higher diplomas or master degrees in Early Childhood Care and Education, Community Development and Family Studies and Support.
An example of a progression route would be if a graduate of a 1 year course in Early Childhood and Education course went on to apply for and complete a BA Degree in Applied Social Studies and Social Care. Immediately career opportunities as a graduate expand and arise in the voluntary, statutory and private sectors – in areas such as health care, residential childcare, special education and judicial services.
A variety of opportunities also exist to work with disabled persons, children, adolescents and older people in residential care, in day care and in the community. The BA in Applied Social Studies in Social Care is the nationally recognised qualification for working as a Social Care professional. Other related courses available in higher education to progress to include: Social Science, Psychology, Social and Community Development and other related disciplines.
As a childcare graduate you should be able to find a job that suits your own circumstances, stage of life and work experience. You can work full-time or part-time to suit your family or other commitments. Whatever area of the workforce you choose, you will be doing a job that makes a difference to the quality of life for children, young people and their families.
To see a wide range of childcare courses on offer around Ireland, use the following link – Childcare Course Listings on Findacourse.ie