Moloney and Associates, Acoustic and Environmental Consultants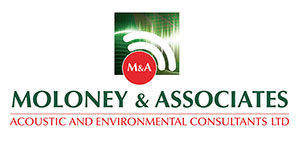 MOLONEY and ASSOCIATES Acoustic and Environmental Consultants have been awarded Approved Training Provider status by the Occupational […]
MOLONEY and ASSOCIATES Acoustic and Environmental Consultants have been awarded Approved Training Provider status by […]
MOLONEY and ASSOCIATES Acoustic and Environmental Consultants have been awarded Approved Training Provider status by the Occupational […]
Certificate of Competence in Workplace Noise Risk Assessment: The aims of this Institute of Acoustics […]
Certificate of Competence in Environmental Noise Measurement: This Institute of Acoustics (IOA) course provides delegates […]
W201 Fundamentals of Occupational Hygiene This course is designed to meet the needs of people […]
Contact Details
Address:
Greenhills House, Kilmoney
Carrigaline

Phone: 021 4374333
Website: https://env.ie
Locations:County Cork, Nationwide
About Moloney and Associates, Acoustic and Environmental Consultants
Moloney and Associates, Acoustic and Environmental Consultants, is an Occupational Hygiene Training Association (OHTA) Approved Training Provider and an Institute Of Acoustics Accredited Training Centre.
Established in 1994, the company provides courses for delegates to be trained to Institute of Acoustics (IOA) standards and to British Occupational Hygiene Society standards.  The consultancy provides expert witness services and can also provide bespoke training courses for clients.  They can generally tailor a training course around your specific requirements. Please contact MandA through their website and/or by phone to discuss any of your training needs.
This website uses cookies to improve service and provide tailored ads. By continuing to browse the site you are agreeing to the use of these cookies. Accept Cookie Policy
Privacy Overview
This website uses cookies to improve your experience while you navigate through the website. Out of these, the cookies that are categorized as necessary are stored on your browser as they are essential for the working of basic functionalities of the website. We also use third-party cookies that help us analyze and understand how you use this website. These cookies will be stored in your browser only with your consent. You also have the option to opt-out of these cookies. But opting out of some of these cookies may affect your browsing experience.
Necessary cookies are absolutely essential for the website to function properly. This category only includes cookies that ensures basic functionalities and security features of the website. These cookies do not store any personal information.
Any cookies that may not be particularly necessary for the website to function and is used specifically to collect user personal data via analytics, ads, other embedded contents are termed as non-necessary cookies. It is mandatory to procure user consent prior to running these cookies on your website.