Dublin City University

No courses presently listed for this provider.
Contact Details
Dublin 9

Phone: 01 700 5000
Website: www.dcu.ie
Location: Dublin City
About Dublin City University
Like other universities, DCU is a place of learning, in which all members of the campus community, staff and students alike, develop knowledge and acquire skills. But in a rapidly changing world, not all universities are the same, and there is an increasing diversity of mission. DCU's focus is unique in Ireland: it sets out to develop high quality, high value learning within the wider setting of Ireland's economic and social needs. It ensures that students gain direct experience of industry and other workplaces, and it offers the very latest technology and facilities to ensure that all are equipped to become leaders in their chosen fields.
DCU is proud of the fact that, again and again, employers confirm their preference for its graduates when searching for future high achievers.
DCU is a major research institution, which has gained worldwide recognition for the work of many of its key researchers and research teams. Four of its major research centres and institutes have been awarded very significant capital funding by the state and by private investors to enable them to provide leadership at a global level. All of DCU's academic schools undertake research which is at the cutting edge of knowledge.
This university is also committed to a further development of its commercial activities, with a growing emphasis on technology transfer and the establishment of campus companies which exploit commercially the discoveries and skills of the campus community. This commercialisation is set in the context also of an active programme of social development, in which DCU plays an active role in social regeneration and the search for ethical values for modern society.
Other colleges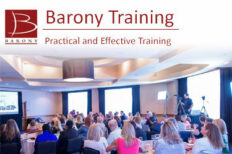 Barony Training is a corporate training firm. Barony is a dynamic independent consultancy and training provider, […]
Kilkenny, Nationwide
Job Skills, Private Sector
Accounting, Basic Computers, Built Environment, [...]