College of Five Element Acupuncture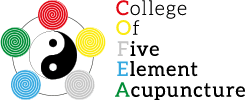 No courses presently listed for this provider.
Contact Details
Address:
Dubllin 3
Gresham House 383-384 Clontarf road

Phone: 01 8330865
Location: North Dublin City
About College of Five Element Acupuncture
Classical Five-Element Acupuncture, as taught by J.R. and J.B. Worsley, is unique among the various types of traditional acupuncture. It doesn't palliate symptoms. It derives its remarkable effectiveness by treating the Causative Factor (CF) of an illness. Relying on natural laws, it recognizes that the health of a person's body, mind and spirit must be taken into account in order to fully diagnose the cause of an illness.
Other colleges
The Sports Fitness Academy offers high quality training and qualifications within the sport and fitness […]
Cavan, Cork, County Galway, [...]
Adult Education, Distance Learning, Fitness Training, [...]
Alternative Therapies, Diet and Nutrition, Fitness and Health, [...]