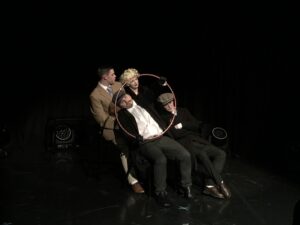 On Thursday 23rd March, a sold-out event at the LexIcon Studio in Dun Laoghaire showcased the exceptional talents of the Sallynoggin College of Further Education (SCFE) students from the Performing Arts and Musical Theatre and Dance courses. The evening was an absolute delight, with the audience treated to a fantastic array of performances by the students.
The first performance of the evening was an abridged version of The 39 Steps by Patrick Barlow, performed by students on the Performing Arts Course Level 5. The hilarious performance took the audience on a wild journey from London to the Scottish Highlands and back. The cast displayed outstanding acting skills, comic timing, and clever use of props, lighting, and sound to create an unforgettable experience.
Following this was Songs and Scenes from The Greatest Showman performed by students on the Musical Theatre and Dance Course Level 5. The performance was a captivating display of song, dance, and acting, which left the audience feeling uplifted and joyful. The students demonstrated great skills in vocal performance, dance, and acting, showcasing the breadth and depth of their training.
These two performances demonstrate the range of skills and disciplines that are taught in the Performing Arts, Musical Theatre, and Dance courses in SCFE. The courses offer rigorous and challenging programs of study that provide students with the essential knowledge, skills, and understanding of the craft of the performer.
These performance by SCFE students are a testament to the quality and excellence of the Performing Arts courses. Anyone with a passion for the arts should consider these courses as they provide a unique opportunity to pursue their dreams and achieve their full potential as professional performers.