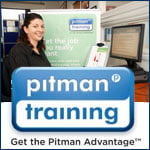 Pitman Training offers a wide range of training courses covering a broad spectrum of occupational and business areas.
Whether you are looking to up-skill in your current position or learn new skills to switch career directions, Pitman Training provide a wide range of options to help you achieve these goals. Pitman Training run courses in the following areas;
– Accounts
– Medical Secretarial Courses
– Legal Secretarial Courses
– Marketing
– Professional Development
– Microsoft training
and others..
Pitman Training offers flexible training options to suit those who are constrained due to existing jobs or other commitments. Centres are located in many areas around the country including Dublin, Limerick, Cork, Galway and several other counties. Bespoke training options are also available for employers.
To view a full range of courses and contact details use the links below to help you find your local Pitman Training Centre