Pitman Training Dundalk
No courses presently listed for this provider.
Contact Details
Address:
First Floor, Ramparts Shopping Centre
The Ramparts, Dundalk

Phone: 1800 532632
Location: Louth
About Pitman Training Dundalk
Pitman Training Dundalk provide a wide range of "job-specific" courses in areas such as Secretarial, Computers, Accounts, Business and Personal Development. The Pitman career enhancing Diploma Courses are career enhancing, whether you're climbing the career ladder or want a complete career change; a specialist Diploma from Pitman Training Dundalk will demonstrate that you're a professional at the top of your game and worth every penny.
Pitman Training Dundalk offer a flexible style of training which allows you to choose lesson times that suits your busy schedule – day, evening and Saturday times available. You can even start a course at any time (the sooner you start, the sooner you're qualified). The wide range of training options caters for both private individual students and corporate clients.
Other colleges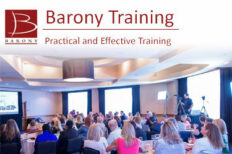 Barony Training is a corporate training firm. Barony is a dynamic independent consultancy and training provider, […]
Kilkenny, Nationwide
Job Skills, Private Sector
Accounting, Basic Computers, Built Environment, [...]