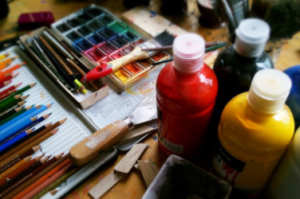 There aren't many pocket friendly hobbies that you can take up, that are not only affordable but also therapeutic. Let's face it, how much does it cost to buy some pencils, pastels or paper? Another added incentive is that your work could make you some cash or lead to progression onto Higher Education.
Aspiring and established artists study art to learn new techniques used with the different forms of artistic media. The fantastic and interesting thing about Art is that it is never stagnant, because people don't stay the same. Your work reflects often your state of mind and life in general sometimes!
All over Ireland, there are Education and Training Boards (ETBs) who run adult learning centres alongside their secondary education facilities. Most of these run part time art courses. There are also numerous further education colleges and private education providers who run part-time and evening art courses. These courses can run from six weeks to one/two years (if it is QQI accredited).
The costs for part time art courses usually range from 100 euros to 200 euros. Means tested PLC Maintenance Grants are available to students who are progressing to a QQI Level 5/6 Award or equivalent and who have not previously studied for such an award.
Malahide Community School, as part of their Adult Learning programme, run a ten week evening Art course. This course provides an introduction to drawing and painting using the various applied arts mediums and encourages pupils to discover their own creative skills. Beginners and more experienced are welcome to attend.
Find more art classes by viewing the Findacourse Art Courses Listings Page..
Many of those who attain QQI accredited qualifications in Art can progress to Higher Education courses, similar to those on offer in the Art & Design Department of GMIT. A number of places are reserved on most Higher Level Art courses for QQI applicants. This is a restricted-application programme. As well as the minimum requirements for programmes in GMIT, entry to this programme is by interview/portfolio assessment. Graduates may proceed to the Level 8 honours degree programmes in Fine Art or Textile Design in the Department of Art and Design at GMIT or to other institutions nationally and internationally.
It is important to enquire from course providers what course materials are required to participate in their course. Some providers charge an additional fee to cover course and class materials. Others will ask you to have some basic materials to begin with. Essential requirements for beginners could include: a good quality wire backed A3/A4 size sketchpad, three graphite pencils, B, 3B, 5B and a soft plastic-type eraser.
Our various life experiences affect us in different ways, and our responses to those experiences affect our mood and behaviour. Art is an ideal way to express yourself in an entertaining and constructive way. Art also lets us express our passions and our hopes. With a new year, many of us make resolutions to take up a hobby. Drawing, painting or sculpting is a great hobby whilst being personally beneficial for the participant. You never know, you could discover the Da Vinci in you!