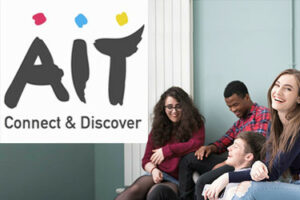 Students studying at Athlone Institute of Technology (AIT) are the most satisfied in Ireland, it has been revealed in the Irish Survey of Students Engagement (ISSE) released in November 2018. The annual survey, which looked at twenty-seven public higher education institutions, considered nine aspects of the student experience, including: effective teaching practices, higher order learning, reflective and integrative learning, learning strategies, student-faculty interaction, overall quality of interactions, a supportive academic environment, collaborative learning and quantitative reasoning.
Consistently performing well in each of these areas, AIT has taken the top spot for both collaborative learning and quality of interactions, the latter of which concerns students' experiences of supportive relationships with a range of other people and roles on campus, while the former refers to the extent to which students collaborate with peers to solve problems or to master difficult material, thereby deepening their understanding.
The award-winning institute, which took home the accolade The Sunday Times 'Institute of the Year' in 2018, continues to enjoy the highest ISSE student response rate nationally (60.5% versus 27.2%). In total, 38,371 students enrolled on taught programmes, at both undergraduate and postgraduate level, took part in the survey, amounting to 28% of the target population and an increase of 2,521 over 2017.
Welcoming the findings, Vice President for Academic Affairs and Registrar, Dr Niall Seery, said: "Our continued success in the realm of student satisfaction is indicative of the quality of student experience on offer at our institute. We've worked tirelessly to cultivate a warm, welcoming and inclusive campus environment that lends itself to student well-being. At our award-winning institute, the student voice is a critical part of our quality assurance processes and this translates to overall happiness levels. We're extremely proud of our endeavours in this area and in retaining the title for most satisfied student body."
This year, the experiences of postgraduate research students were also gathered in a separate pilot national survey (ISSE-PGR). A total of 2,983 responses were recorded, amounting to a response rate of 32.5%. This is the first time that postgraduate research students have been asked to share their views of the student experience and means that an invitation to provide feedback is now offered to all students at certain stages of their higher education. The first non-pilot study of postgraduate research students is scheduled to conduct fieldwork in the Spring of 2019.
The ISSE survey is designed to ask students directly about their experiences of higher education. Student feedback provides institutions with valuable information to identify good practice that enhances the student experience and to prompt awareness of, and action on, any particular issues or challenges that affect students. The results of the survey are intended to bring benefits to students and their institutions and to inform national policy. When introduced in 2013, the ISSE was the first national survey of its kind in Europe, although a number of countries have since introduced similar surveys.
Commenting on this year's ISSE results, Project Manager for ISSE, Sean O'Reilly said: "There are many examples of institutions using data from the ISSE to enhance the experiences of students. We expect that data from postgraduate research students will also become a valuable evidence-base and the report of the 2018 pilot will form a key prompt for further consultation with the postgraduate research community."
Distinguished by outstanding learner experience, applied education and an industry-focussed approach to research and innovation, AIT is currently ranked 9th nationally in The Sunday Times league table comprising of Irish universities and institutes of technology. Click here to find out more about Athlone Institute of Technology.