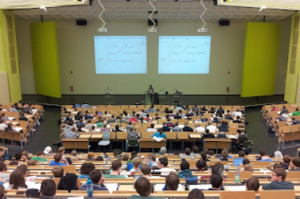 Short courses at night schools, vocational courses designed to give people a trade or enhance existing skills and attending university courses on a full or part time basis are all forms of adult learning.
Adult learning courses usually last between eight weeks and nine months, depending on the nature of the course and the content. For example, a skills course to enhance administration skills will probably last longer than one covering cake decoration. Adult learning courses usually require an individual to attend two to three times a week for one or two hour classes.
The classes can be scheduled at any time of day but are most commonly run as evening courses to help people to arrange them around their working patterns or their other commitments, such as caring for children. There may also be two versions of the same course running simultaneously, one in the day and one in the evening, to give more flexibility & cater for a those with differing schedules.
In terms of the course content to be found on adult learning schemes, it varies in relation to the course itself, but the majority of the work and assessment is classroom based with a practical exam or regular exam at the end of the course. However, the typical course content for adult learning varies depending on area of study.
In terms of career progression, adult learning courses can considerably enhance your career prospects. A good number of the courses are designed to introduce you to new skills related to your existing career or enhance those that you already have. The ones that can supplement your existing knowledge can enhance your employability for future jobs elsewhere or indeed enhance your position within the company, thus making your promotion prospects more real.
If you are looking for further information on adult learning then there is a wealth of information out there at your fingertips that you can tap into. One such resource is Aontas.com – more info on their website at https://www.aontas.com
________________________
Adult Learning Resources
________________________
1. National University of Ireland in Galway is committed to promoting lifelong learning, from interest courses through to the Masters programs that they offer.
2. Malahide Community School offers a wide range of adult learning part time courses in Autumn and again in spring.
3. University College Dublin offers over 200 adult learning courses, from access courses to credit courses to interest courses, meaning that there is something for everyone!
4. The Waterford Institute of Technology offers professional development for adults looking to get ahead in their careers. Their comprehensive programs caters for those in the industries of engineering, health, business, education, humanities and the sciences.
4. ETBI (Education and Training Boards Ireland) list the 16 ETBs which offer Adult Education Guidance for those who can benefit from the service. The ETBs also run a wide selection of adult education courses – more info at https://www.etbi.ie/etbs/directory-of-etbs/
Click to view evening and part time courses on Findacourse.ie