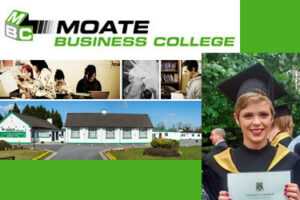 Moate Business College provides further education – often referred to as 'post leaving certificate' or 'PLC' courses – to the population of the Irish midlands. From small beginnings in 1991 the college has grown to its current maximum capacity of almost 500 full-time students. On completion of the Irish Leaving Certificate (end of secondary school examination) or its equivalent, students are entitled to apply to MBC for a place on one of its 12 courses.
Courses are of one or two years duration depending on the level (often students will start at QQI level 5 in the first year and progress onto QQI level 6 for a second year). All students attending Moate Business College are offered QQI (Quality and Qualifications Ireland) Certification, which is widely recognised and respected by employers.
Past Student Testimonial – Aisling Reid
"Moate Business College functioned as a hugely effective stepping stone for me, bridging the gap between secondary school and university. Having finished my leaving certificate at just 17, my parents were reluctant for me to progress to college at such a young age. Moate Business College transpired to be the best thing I could have done! It enabled me to defer my bachelor degree until I turned 18, while gaining a skill set that was invaluable moving forward with my education.
During my Sport and Leisure course, I developed effective research and report writing abilities, which translated seamlessly when it came to assignment writing in university. I chose Sport and Leisure Fetac Level 5 at Moate Business College as I was going on to complete a BSc. in Sport and Exercise Sciences at UL. The course gave me the foundations in anatomy, class instruction and principles of training I needed to excel in my bachelor, along with certification in Occupational First Aid, Life Saving and both FAI and GAA coaching qualifications, to name but a few.
I was also very fortunate during my year at Moate Business College, to be accepted for their Erasmus+ Project. Through the project, I completed a 3 week exchange to Northern Italy, where we were hosted by amazing Italian families. It is to date, one of the best things I've ever done! I completed my work placement in a gym setting and learned the local language, all the while, making friends for life and becoming familiar with the art of producing homemade pasta.
Moate Business College helped me to grow in various ways and I would recommend it to any student who is unsure about what they want to do, or are thinking of trying something different, or in my case, are just not ready for university yet. The wide range of courses and career advice available are excellent and are complimented by approachable and knowledgeable staff members on campus."
View courses available at Moate Business College at https://www.findacourse.ie/colleges/moate-business-college/