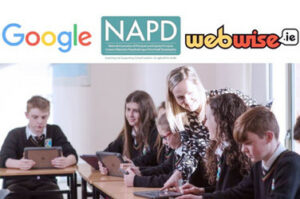 Google, in association with NAPD (National Association of Principals and Deputy Principals) and Webwise, are offering educators the chance to attend an Internet Safety Seminar ahead of Internet Safety Day 2019.
Organised by Google's Trust & Safety Team, this event for educators, is an excellent opportunity to learn about resources and tools that can help integrate digital citizenship and on-line safety in the classroom.
An update on the very impressive suite of supports available from Webwise (PDST Technology in Education) will also be provided the Webwise team at this event.
Registration is on a 'first come, first served' basis and schools can nominate three teachers to attend. This invitation is open to NAPD Member schools only.
Date: Thu 24 January 2019 – 15:00 – 17:00 GMT
Venue: Google EU Headquarters, Barrow Street, Dublin, Ireland D04 V4X7