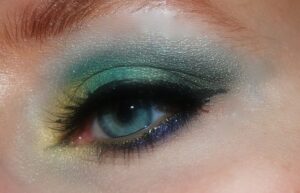 Make-up training can be undertaken for personal use or as a way to enter an exciting and glamorous industry. A professional make-up artist is involved in some of the most exciting events in somebody's life – from intimate events like weddings to public occasions like award ceremonies. Some make-up artists get to work with politicians, actors, models and musicians. Typical employers include: Modelling agencies, Magazines, Film/Television, Theatre, Department Stores etc. Their job can be to promote a certain image to creating special effects such as wounds or ageing – depending on what is required. They may work alone, as assistants to a more senior colleague, or as part of a make-up design team. There are huge opportunities for self-employment also.
There are certain desired skills and qualities one needs to be a make-up artists. They include:
• Excellent communication skills.
• Ability to improvise.
• High level of organisation skills.
• Excellent attention to detail and accuracy.
• Resourcefulness and ability to manage several tasks and projects simultaneously.
• Ability to work under pressure.
There are many make-up training courses throughout Ireland. Some are set-up for those who just want to learn how to apply their own make-up, to internationally accredited courses, for those who wish to become formally trained in the area.
The Colour and Image Academy run both part-time/evening make-up training technique courses and Make-up Artistry Courses. Their courses are run nationwide, in Cork, Dublin, Kerry and Limerick. They see the world of a make-up artist as a 'fantastic and rewarding business to be in'. A qualification from this academy will assist you in setting up your own business to working for an employer. Their past students have progressed to work for leading cosmetic houses, others become session make-up artists working in the fashion, television & film industries.
Bronwyn Conroy Beauty School in Blackrock, County Dublin (now also offering Cork location) offers a range of hair and beauty courses from the CIDESCO full time beauty therapy course to the part time manicure and pedicure course. Whether a beauty professional seeking to add new skills such as spray tanning or threading or a part time learner hoping to get that perfect fake tan then this college will have something to offer.
The Portobello Institute run a Diploma course in Make-up Artistry – offering both part-time and full-time courses. This course was set up as a result of the huge growth in the Irish entertainment and cosmetic industry. Portobello Institute's course provides you with the skills required for this exciting and challenging industry. Their all-embracing courses are specifically designed to completely equip you with the necessary tools to work in all areas of Make-Up Artisty. On completion, your portfolio will prepare you for work in the retail and fashion arena, with brands, catwalk, catalogue and editorial. The curriculum of the ITEC Facial Make-Up certificate is covered on this course, giving you the opportunity to take this particular examination at the end of this course if you wish.
St Louis Community School in mayo also offer a Certificate in Bridal Make Up (ITEC Level 2). The course is part time, running once a week for 5 weeks.
Some courses provide certain tools for this trade, whilst others require you to come equipped with certain brushes/applicators and make-up. Always check with your course provider what you are required to bring and/or additional costs for materials provided.
Whilst not necessary, completing an accredited course in this area will assist you in travelling the  world with your qualification. The ITEC (International therapy examination council) qualifications are the best way to start your career in the beauty industry. Recognised in over 33 countries worldwide; an ITEC qualification will help you wherever you choose to work. ITEC is the premier International Awarding Organisation for qualifications in Beauty. However, all colleges and academies offering make-up courses, will have their own certificate to award on completion of the course.
There is no doubt that this is perhaps one of the most glamorous careers to be in and some make-up artists go on to  become celebrities in this field, as a result of the high-profile clients they work with. There are make-up artists like Bobbi Brown, for example, who have their own prestigious brand of make-up for sale world-wide. Other make-up artists are hired by make-up brands to travel the world as ambassadors for their make-up.
This is a practical skill that you can use in your own personal life or turn into a profitable career. If you don't wish to do it on a full-time basis, it is the perfect part-time income earner to combine with another career. There are many make-up artists in Ireland who specialise in weddings or other special occasions, whilst pursuing other careers. Another added advantage is you do not have to have a studio to offer this service, as most make-up artists operate as mobile make-up artists.
In a world where people are struggling to survive on a sole income, a qualification as a make-up artist could assist you in supplementing your income.
View more hair and beauty courses at https://www.findacourse.ie/courses/hair-beauty/ More information on hair and beauty training options can also be viewed at www.beautycoursesireland.com