SureSkills – IT and Business Skills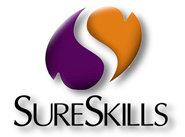 No courses presently listed for this provider.
Contact Details
Address:
Dublin 2
14 Fitzwilliam Place

Phone: 01 240 22 38
Website: www.sureskills.com
Locations: Dublin, Dublin City
About SureSkills – IT and Business Skills
Are you responsible for the importance of managing training, learning and staff development within your organisation?
Do you wish to improve your IT Skills, your Business Skills or further your own Personal Development?
Did you know that SureSkills provide tailored end-to-end solutions for all your IT and Business training needs and requirements – from Design, to Delivery, Implementation and Evaluation.
Contact Steven Long, Business Skills Training Manager for any questions or queries that you may have.
Other colleges
Pitman Training West offer courses in the following areas: Office & Secretarial Typing & Keyboard […]
Galway
Adult Education, Job Skills, Private Sector
Accounting, Admin and Office Skills, Business and Accounting, [...]