Rathmines College

Rathmines College offers a one-year fulltime QQI Level 5 course in Legal Studies with Criminology […]
Certificate in English (ESOL) and IT 5M2102 Business Modules: • ESOL English as a Second […]
This QQI Level 5 course is designed to provide the learner with an appropriate base […]
Rathmines College offer Computer Programming courses at QQI Level 5 & 6.  Year 1 – […]
Year 1 – QQI Level 5 Pre-University Law 5M2102 Business and Law 5M3789 Legal Studies […]
This QQI Level 5 Software Development and Data Analytics course gives students an excellent grounding […]
The Accounting Technician Apprenticeship is a two-year, work-based learning programme which leads to a Level […]
Rathmines College offer a one-year fulltime QQI Level 5 course in: Networks for Small Business […]
Rathmines College offer a one-year QQI Level 6 in Advance Certificate in Software Development Year […]
Rathmines College offer a QQI Level 6 Advanced  One Year full-time course in News and […]
This course prepares students to work in a range of accountancy and business environments Part […]
Year 1 – QQI Level 5 – One year full-time Certificate in Medical Administration 5M1997 […]
Certificate in Legal Administration 5M1997 Modules • Legal Practice and Procedures • Customer Service • […]
Certificate in Secretarial Administration 5M1997 Modules • Customer Service • Text Production • Information & […]
Certificate in Payroll and Accounts Administration 5M2468 Modules • Sage iPass – Certificate in Payroll […]
QQI Level 6 – One year full-time Advanced Certificate in Administration 6M4985 Modules • Business […]
Contact Details
Address:
Dublin 6
Town Hall, Rathmines

Phone: 014975334
Website: www.rathminescollege.ie
Location:South Dublin City
About Rathmines College
Rathmines College offers QQI Level 5 and 6 courses in Business, Computer Programming, Media & Liberal Arts, Office Administration, Pre-University Law and much more. The college also offer Professional Accountancy courses accredited by ATI. Rathmines College is a constituent College of the
City of Dublin Education & Training Board. The College also offers a wide range of part-time evening courses.
Images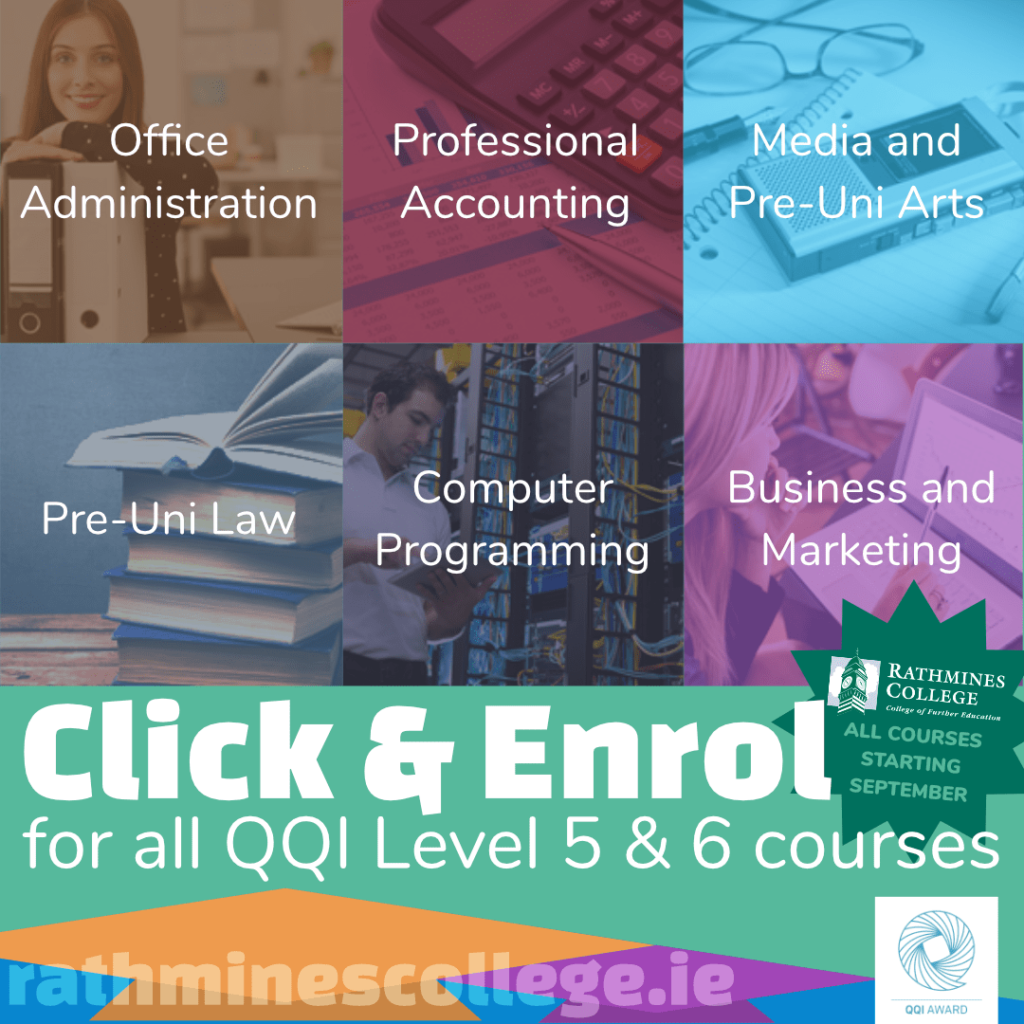 This website uses cookies to improve service and provide tailored ads. By continuing to browse the site you are agreeing to the use of these cookies. Accept Cookie Policy
Privacy Overview
This website uses cookies to improve your experience while you navigate through the website. Out of these, the cookies that are categorized as necessary are stored on your browser as they are essential for the working of basic functionalities of the website. We also use third-party cookies that help us analyze and understand how you use this website. These cookies will be stored in your browser only with your consent. You also have the option to opt-out of these cookies. But opting out of some of these cookies may affect your browsing experience.
Necessary cookies are absolutely essential for the website to function properly. This category only includes cookies that ensures basic functionalities and security features of the website. These cookies do not store any personal information.
Any cookies that may not be particularly necessary for the website to function and is used specifically to collect user personal data via analytics, ads, other embedded contents are termed as non-necessary cookies. It is mandatory to procure user consent prior to running these cookies on your website.