Achill Archaeological Field School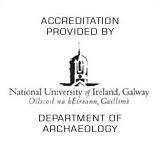 No courses presently listed for this provider.
Contact Details
Address:
Achill Island
Archaeology Centre, Dooagh,

Phone: +353 98 43564
Website: https://achill-fieldschool.com
Location: Mayo
About Achill Archaeological Field School
The Achill Archaeological Field School was founded in 1991 as a Training School for students of archaeology and anthropology. The Field School is based at the Achill Archaeology Centre in Dooagh and at the Deserted Village of Slievemore, both of which are located in the west of Ireland on Achill Island in County Mayo.
The Field School is involved in a study of the prehistoric and historic landscape at Slievemore, incorporating a research excavation at a number of sites within the village. Slievemore is rich in archaeological monuments that span a 5000 year period from the Neolithic to the Post Medieval. Academic Credit for overseas students is provided by the National University of Ireland at Galway with whom the school has formal linkage.
Other colleges
Pitman Training offer a wide range of training courses covering a broad spectrum of computer, […]
Athlone, Carlow, Clare, [...]
Distance Learning, Job Skills
Admin and Office Skills, Art, Design and Media, Business and Accounting, [...]