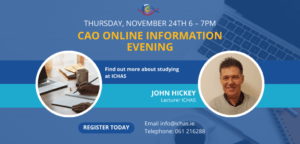 Location: Online
Time: 6 pm - 7:00 PM
Contact College
Please note this information session is only available online.
This event (run by Zoom) will let you chat with lecturers and members of the faculty about the range of undergraduate, and certificate courses we have on offer.  They are a great way to find out more about studying with ICHAS and explore our range of CAO Courses available.
There will also be a Q&A session during the talk.
Why not register below to learn more about our courses in Counselling and Psychotherapy/Youth Studies/Addiction Studies.
To find more information on this event, or to register please click on the following link
CAO Online Information Evening Thursday, November 24th 6 – 7pm
If you can't make our online information evening this time but would like more information please contact us at [email protected] or telephone: 061 216288.
View more events on Findacourse.ie