Recruitment to An Garda Siochana

(This content was originally published in 2013)
Applications are now being accepted for the postion of Garda trainee. The closing date for receipt of applications is midnight on the 9th January 2014.
People between 18 and 35 years with a Leaving Certificate can apply for trainee positions before the closing date. While the height requirement has been abolished, candidates must pass a physical competency test.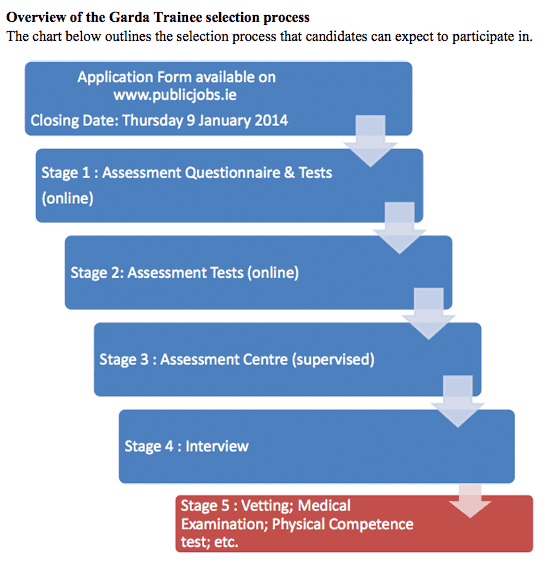 Application
Those interested in applying for garda traineeship can do so at Publicjobs.ie
Candidates will first be required to undergo an online aptitude test. If they pass they will take a further aptitude test in an exam-style setting followed by the traditional process of interviews and assessments.
It is expected the period for candidates to apply will be limited to a few weeks so the process of narrowing down applications can begin immediately.
Kilroys Distance Learning Garda Recruitment Course
Kilroys College are currently offering a distance learning course which will help prepare candiates for the assessment stages of the application procedure. The course is currently on offer at half the usual price and details of the course are outlined below.
• Flexible self-tuition home study course
• Approach the test confident of doing well
• Gain ample examination practice
• 300 plus sample questions with model answers
• Enrol today – course delivered tomorrow
With the Kilroy's College Garda Recruitment course 50% discount you will have the unique opportunity to achieve maximum results on the day of your test.
All you need to succeed in your Garda entry competition is included. Everything you'll need to know is comprehensively covered in our very well-structured course. Over 300 sample questions with model answers and a complete mock test are included.
On receipt of your enrolment you will be immediately sent your home tuition pack by express mail, next working day.
You can securely Enrol Online and the 50% discount will be automatically deducted from the normal course fee.
Delivery Method: Correspondence
Duration: 20 to 25 hours
Price: €275 €138