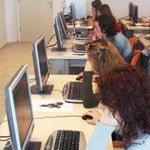 The recent recession has caused major upheaval in many people's lives and as the reality of lack of jobs hits home, thoughts often turn to re-training in a different area, enhancing existing skills and adding value to life experience in order to meet the new demands of employment. As the austerity years progress, new opportunities for growth will be largely driven by government policy, foreign investment and emerging sectors.
In order to tap into these areas, it is important to understand the necessary skill sets needed and look at gaining the appropriate training and qualifications. One group ideally positioned to take advantage of these new opportunities and gaps in industry sectors are mature students. The new year is the ideal time to research and contemplate how a return to education can complement existing skills and add relevant knowledge to the jobseekers portfolio.
Mature Students
Students of this type are becoming major consumers of training courses. They  may be long term unemployed, recently graduated, redundant, semi-retired or a former business owner. Age is irrelevant to education and in these times, it is important particularly for those who have sustained a career to date, to evaluate their existing skills and identify any areas where up skilling and re-training will enhance their prospects when job hunting.
Returning to education can be daunting for some older students and going to college again is something that many already qualified people find hard to adapt to, but the benefits and the experience of study far outweigh any doubts and worries.
The broad range of training courses available, means that subjects of value exist to enhance every student's CV and experience portfolio. Whether a Fetac award module or an under graduate degree program, the very act of study and sense of purpose has been found to enhance essential soft skills needed in the market place and boost self-confidence of students giving additional benefits.
Mature students as a group are core members of any further education college or university. Usually they have a clear knowledge of what they wish to gain from their study and this drives them to achieve better results on completion of training courses.
Entry Requirements and Finance
Many people looking for a course are under the impression that a leaving certificate (or similar) is essential to attend college of any kind but this is not the case for mature students. Depending on the course, some colleges may require that some leaving certificate subjects were studied in the past. Each course and college will have a set of criteria for entry and individual cases can be discussed with the college.
Becoming a mature student is life changing and juggling family life with study can be a struggle as well as a financial burden for some. Having support from friends and family is important. Financing college may be challenging but there are many finance streams and supports to help depending on eligibility. There are back to education allowances, maintenance grants, FAS funding, springboard and student funds at some universities.
Colleges are experienced with the needs of mature students and may offer advice and support personally and academically. Those mature students applying for particular courses in universities may need to sit a Mature Student Admissions Pathway test.
Prospects for Mature Students
Over the last five years due to the economic climate, the coupling of skills with jobs has become more difficult but mature students have an advantage as previous experience and knowledge make them good, committed students who will take full advantage of the training they receive. Ireland is continuing to invest in education and training, and there is commitment to supporting the creation of highly skilled jobs in some of the identified growth sectors such as technology, the green economy, healthcare, communications and information technology and healthcare. These growth sectors not only offer opportunity for work within Ireland but across all EU member states.
There is no better time for people to invest in them selves to prepare for the inevitable opportunities that will arise in the future as emerging technologies grow and international confidence is restored in Ireland.
New skills and the changes they bring not only revitalise individuals but also in time will help to revitalise the economy. This is why further education colleges are a vital part of Ireland's future. The diversity of subjects, quality of teaching and skills of graduates are the key to Ireland's growth and recovery.
Author:
Denise Colebrooke