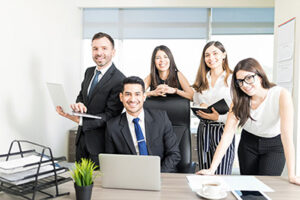 If you look up the word 'project' in a dictionary, you will probably get a vague description such as 'something that is contemplated, devised, or planned to be finished over a period of time and intended to achieve a particular purpose'. This gives an impression of the broad scope of courses in this area and how achieving certification in Project Management could be beneficial across a broad range of career areas.
There are plenty of project management courses to choose from, some will be certified, other part time options will serve more as an introduction. Those that are certified may have one of the qualification options listed below..
Certified Associate in Project Management (CAPM)
CAPM is considered to be an entry level certificate but is ideal for those who may be starting out in the area of project management or need to gain some knowledge of this area for an upcoming important project. Topics covered will include project initiation, tracking and execution methodologies to meet deadlines and goals. Team management, risk management as well as budgeting and financial considerations.
Certified Scrum Professional (CSP)
Scrum certification offers a more in-depth knowledge of project management. The Scrum framework is a method of delivering Agile principles. The CSM provides a foundational understanding of Agile principles and teaches students how those principles are executed using the Scrum framework. Participants of this course will usually have prior work experience in areas of management and holders of this certificate will be expected to be at a level where they can lead teams.
PRINCE2 Certification
PRINCE2 is another methodology of structured Project Management. PRINCE2 (PRojects IN Controlled Environments) can be defined as a process-based method for effective project management. PRINCE2 is the standard used by the UK Government, it is widely recognised and practised in the private sector in the UK and internationally and has gained popularity here in Ireland as a scalable system suitable for both small and large companies.
Project Management Professional (PMP)
PMP will often be sought for high level project management positions. It is an internationally recognised professional designation offered by the Project Management Institute (PMI). The PMP exam is based on the PMI Project Management Body of Knowledge. Government, commercial and other organisations employ PMP certified project managers in an attempt to improve the success rate of projects.
Agile Certified Practitioner (PMI-ACP)
This certification is also offered by the PMI and it includes various aspects of the Agile methodology, such as Kanban, Lean, Scrum, and others. Agile certification will be necessary for those hoping to work for organisations that are heavily invested in the Agile methodology or are looking to move into the space.
For those seeking a third level course in Project Management, NUI Galway run a level 8 course in Project & Construction Management. Other colleges run more specific courses such as the IT Management and Tourism Management courses on offer from Cork Institute of Technology (levels 7 & 8) and the level 8 Technology Management course at University of Limerick.
To find Project Management Courses on Findacourse.ie – view the following link – https://www.findacourse.ie/courses/project-management/