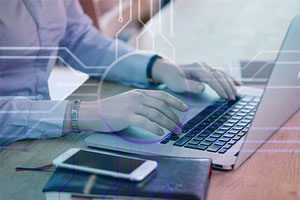 Distance learning has been under the spotlight in recent times, however, it has been around for decades; there have been distance education programmes available in Ireland for over 25 years. These courses were print-based at the beginning, however, today it is easy to enrol in an online course, with the selection of subjects, colleges and courses, including degrees, greater than ever.
Doing a degree online is a convenient way for those with busy lives to study and work at the same time. The benefits of online classes, online tutor-student support and forums for discussion with classmates, provides a college experience without the commitment of having to attend a college every day for lectures.
There are many places to choose from when considering e-learning at degree level. Below are just some of the colleges in Ireland that offer degree courses online.
NUI Galway
NUI Galway offers online , blended and modular learning programmes. The same education is provided online as in a classroom setting and the programmes offered range from level 7 to level 9 in the NFQ. Degree programmes typically take 4 years to complete and are assessed through assignments, learning journals and online contributions and examinations. Courses on offer include a BA in Social Care, a degree in Early Childhood Studies and Practice and an online Diploma in Software Engineering.
www.nuigalway.ie
Hibernia College
Ireland's first wholly online provider of third level degrees, Hibernia College was established in 2000 and is best known for providing postgraduate primary school teacher training courses. It now trains more teachers than the all of the traditional teacher training colleges put together. Hibernia now offers a postgraduate course in second level education as well as degrees in computing and business.
www.hiberniacollege.com
Chevron Training
Chevron Training is a leading provider of accredited further and higher education training in the Healthcare and Early Years Care and Education sectors. Chevron Training offer a BA (Ord) in Early Childhood Studies Online. They also offer a BSc (Hons) Health and Social Care Degree and a QQI Level 6 Montessori Course.
Sligo IT
Sligo IT has seen a 15% rise in their number of online students and this has brought their online student population up to nearly 1,300. The majority of courses are 2 year part-time and range from certificate to postgraduate level. Fees for a 2 year course vary from €4,000 for a level 6 certificate to €9,000 for a level 9 post graduate course.
www.itsligo.ie
Oscail
Dublin City University offers a selection of online degree programmes through Oscail, where students can interact with their tutors online once they have paid their fee and registered. DCU's virtual learning environment provides students with the opportunity to ask questions through online forums and attend live online tutorials. Each student has a tutor to help them with their studies and there are face to face meet ups on campus also. A BA course with Oscail costs €9,000 and students over 23 with no previous qualifications can apply.
www.dcu.ie/oscail
UCD
UCD Online has been developed as a response to growing student demand as well as recent advances in online learning. Based on 150 years of experience in developing courses, UCD Online provides students with the same quality material and support as campus students but with a flexibility that allows students to work in a way that suits them. Students are assigned a personal tutor and many of the courses are taught through modules that are delivered on demand. Methods of assessment are specific to each module and each module is assessed separately. Courses on offer include a Bachelor of Business Studies.
www.ucd.ie
ULearning
Ulearning at the University of Limerick was established in 2008 and works to connect industry and academia by focusing on individual and corporate skill gaps. Degree courses such as Bachelor of Science in Supply Chain Management as well as a Masters in Software Engineering are on offer.
www3.ul.ie/ulearning/
Click to View Distance Learning Courses on Findacourse.ie
Author
: Fiona McBennett