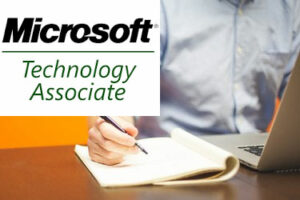 With the many multi-national corporations providing IT related employment in Ireland, becoming skilled in coding languages and Microsoft software can be beneficial for those interested in working in this area. Anyone considering entering into an IT career and needing to learn the basics might consider gaining MTA (Microsoft Technology Associate) certification. It's worth noting that the main function of MTA is to teach fundamental technical concepts, assess and validate core technical knowledge, and enhance technical credibility. For anyone with some IT skills already under their belt, a more advanced level such as MCP or MCSA might be more appropriate.
According to Microsoft, 86% of managers state that IT certifications are important when they are considering candidates and 91% say that a certification is essential when they are hiring. Microsoft have stated that 64% of managers thought that certifications had high value when it came to validating the skills of job candidates and that certification, experience and training were some of the most important characteristics when selecting a employee. Perhaps the best news of all is that in one survey of nearly 700 IT professionals, 60% stated that getting a certification led to them securing a new job.
An MTA (Microsoft Technology Associate) certification supplies the expertise and knowledge needed for a specific technology or product and is the recommended starting point for the Microsoft certifications. It provides a solid foundation and with just one exam you earn a certification that will allow you to take your first step towards a career in IT.
An MTA also works well for those who have some basic knowledge and may want to refresh or focus on a specific area. Depending on your interests and career goals you can do an MTA on a variety of topics. Doing an MTA also gives you the necessary knowledge for moving on to complete an MCSA (Microsoft Certified Solutions Associate) or MCSD (Microsoft Certified Solutions Developer) certificate. When you successfully complete an MTA you become a member of the Microsoft Certified Professional community (MCP) which allows you members only benefits such as special offers and a private groups where you can network and connect with others on the same career path.
An MTA certification never expires and exams can be taken a training centre near you. Pitman Training centres all over the country are offering MTA qualifications, with online courses available. The courses range in topics from an MTA in Security Fundamentals, MTA Networking Fundamentals, MTA Server Administration Fundamentals to MTA Windows Server. All are run on a flexible study basis and are open to those looking for a basic understanding of key concepts.
For an IT professional an MTA certification can add that extra touch of professionalism to your CV and by completing such a course, you are showing future employers that you are motivated, driven and dedicated. When you complete your MTA and become a member of the Microsoft Certified Professional Community you will also have the opportunity to browse a list of job opportunities around the world, specifically filtered for MCPs.
For those hoping to improve employability, having a world recognised qualification could be key to raising your profile. So impress future employees and feel confident when you go to your next interview knowing that you have a certification and the skills that will enable a successful IT career.