The Gaiety School of Acting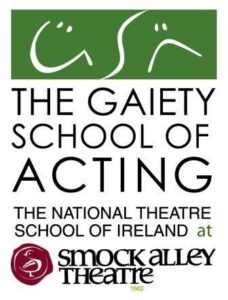 If you can stand up in front of an audience and make them laugh it […]
This course is a practical, enjoyable and confidence building introduction to the craft of acting […]
ACTING FOR CAMERA 1: ACTING SKILLS This course is always a sell out as it […]
Our One Year Part Time courses represent our part time school at its most advanced […]
This course is one of the leading actor training programmes for theatre, TV and film […]
Contact Details
Address:
Dublin City
Essex Street West

Phone: 01 442 8452
Location:Dublin City
About The Gaiety School of Acting
The Gaiety School of Acting was set up in 1986 to provide a range of training programs and courses for those looking to get into theatre and acting. The school is now recognized as a leading institute for acting and drama courses. Thousands of students pass through the Gaiety school each year completing the range of full time and part time acting course son offer.
This website uses cookies to improve service and provide tailored ads. By continuing to browse the site you are agreeing to the use of these cookies. Accept Cookie Policy
Privacy Overview
This website uses cookies to improve your experience while you navigate through the website. Out of these, the cookies that are categorized as necessary are stored on your browser as they are essential for the working of basic functionalities of the website. We also use third-party cookies that help us analyze and understand how you use this website. These cookies will be stored in your browser only with your consent. You also have the option to opt-out of these cookies. But opting out of some of these cookies may affect your browsing experience.
Necessary cookies are absolutely essential for the website to function properly. This category only includes cookies that ensures basic functionalities and security features of the website. These cookies do not store any personal information.
Any cookies that may not be particularly necessary for the website to function and is used specifically to collect user personal data via analytics, ads, other embedded contents are termed as non-necessary cookies. It is mandatory to procure user consent prior to running these cookies on your website.