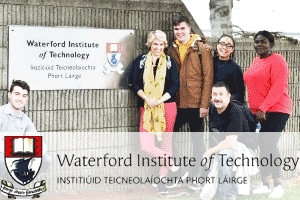 Location: WIT, Cork Road, Waterford
For your chance to see all that WIT has to offer you, come along to Open Days on Friday, 14 and Saturday, 15 January 2022. Please note the the event location has not been confirmed but will be shortly. Please check wit.ie for more information closer to the event.
The event focuses on undergraduate entry for September 2022 but also showcases the opportunities for postgraduate learning and research and flexible study through the School of Lifelong Learning & Education.
Booking
School groups are advised to book using booking form on website. Smaller groups and individuals can come along on either day without booking.
Whether you've applied for an undergraduate course through the CAO, you're considering your next steps in education, you're looking at a postgraduate or part-time course, or looking to undertake a professional development course, you'll find plenty to discover at WIT's Open Day.
Learn more about your chosen course or areas of study you may be interested in
Talk to lecturers to find out about specific course information
Learn more about fees and grants and student supports
Take a tour of the campus & facilities
Meet current students and hear about their college experiences
Book on-campus accommodation
Learn about student life at WIT
View more events on Findacourse.ie