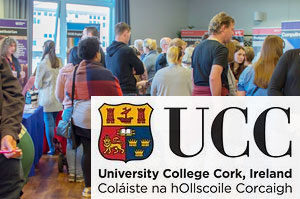 Location: Online
Time: 5 pm
UCC's STEM Sessions -Computer Science and Information Technology
Our understanding of Science, Technology, Engineering and Mathematics is of fundamental importance to the way in which humankind, and this planet we call home, will develop during the 21st century and beyond.
The College of Science, Engineering and Food Science presents a STEM session on our Mathematical Sciences degree programme. Our speakers will available live, to answer any questions you have.
Computer Science and Information Technology:
CK401 – BSc Computer Science
CK411 – BSc Data Science and Analytics
CK118 – BA Digital Humanities and Information Technology
CK121 – BA Psychology and Computing
Tuesday, May 17th, 17.00 GMT
This session will be held on Zoom – details will be issued to registered participants.
View more events on Findacourse.ie