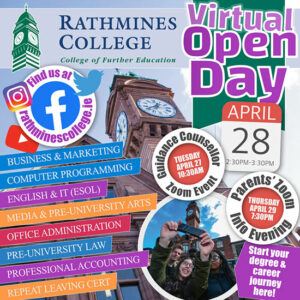 Location: Online
Time: 10.30 am
Contact College
Save the dates … Rathmines College are looking forward to chatting with Students, Parents and Guidance Counsellors with three Zoom events in late April.
Guidance Counsellor Zoom Event – 27th April at 10.30 a.m.
Virtual Info Day – 28th April at 2.30 p.m.
Parents Zoom Event – 29th April at 7.30 p.m.
At each event Rathmines College teachers and students will talk with students, parents and guidance about courses, college experiences, grants, student supports and Q&A. Click on the Rathmines College website for all course information and the Zoom link.
Apply online to join the Rathmines College Class of 2021-22 with all QQI Level 5 & 6 courses starting in September.  Go Further with Rathmines College www.rathminescollege.ie
View more events on Findacourse.ie